Getting your first rank in Counter Strike 2 can be a hard time.
Maybe you thought you were a Legendary Eagle Master but in the end, you were ranked as a Silver Elite.
How embarrassing!
Never fear though, with some good aim training and utility usage, you will be climbing to the highest ranks in no time.
How Do CS2 Ranks Work?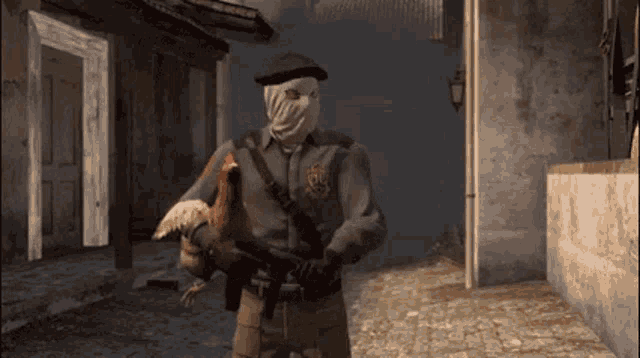 While not having an official definition of how the CS2 ranks work, there is definitely enough of an understanding to break down how you are scored/placed based on your skill level (and no, silver isn't no keyboard and mouse lmao).
If you are brand new to the counter strike (Competitive First person shooter style) then you will need to know that it has been leading the FPS competitive scene for over a decade now.
Within its core, built around fast-paced terrorist and counter-terrorist operations. To determine who is the best at this game, the developers(Valve corporation) created CS2 ranks, ranging from Silver One to Global Elite.
This ranking system consists of 18 different CS2 ranks. Typically most players fall in the middle (Nowadays) around the Gold Nova 2 rank.
You receive a rank after playing/ winning a set number (ten wins) of "Ranked" matches, known as placement matches.
As there are only a handful of matches you play before being given your first rank, new players sometimes find they have been misplaced and their next matches are full of much more experienced/ seasoned veterans.
The main rule of thumb is to always try and win slightly more than you lose; you can't win them all. In doing so you will slowly climb ranks and start to verse more people around the same skill group.
Types Of CS2 Ranks - Lowest To Highest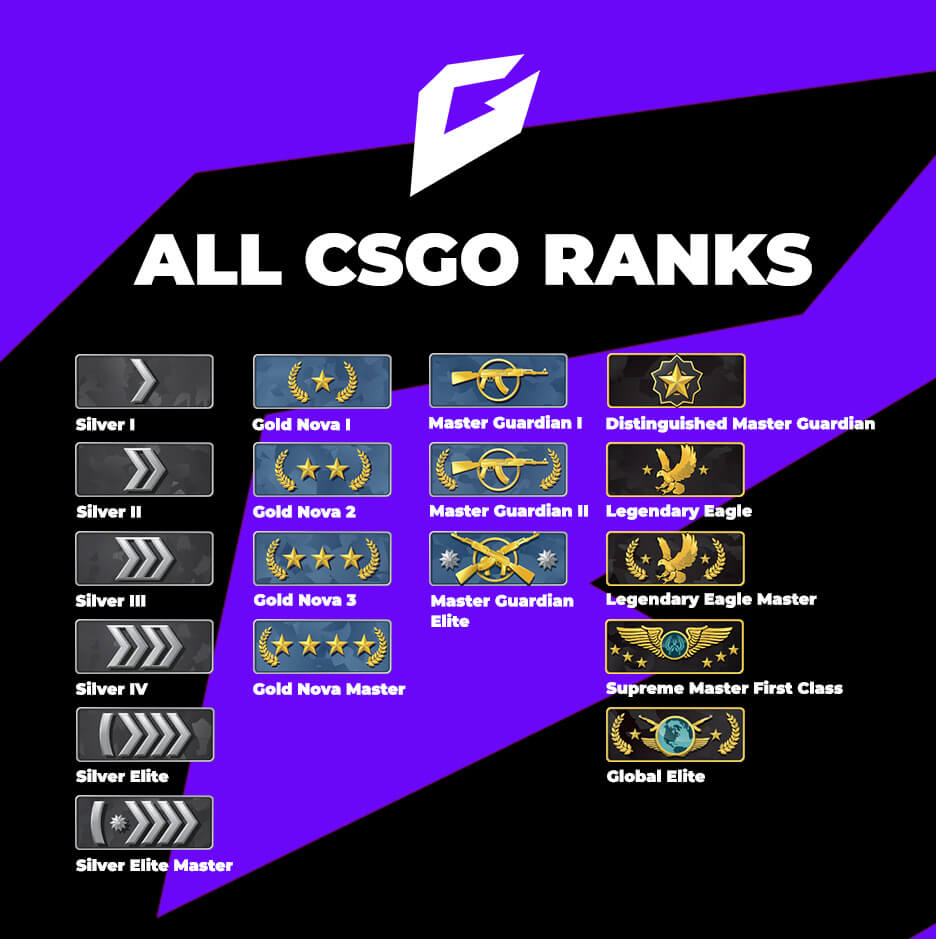 Since the release (August 2012) the ranks have remained unchanged. While a few restructures have taken place, many people have now settled into where their current rank is appropriate.
Here are all 18 ranks from unranked player to highest rank.
Silver I
Silver II
Silver III
Silver IV
Silver Elite
Silver Elite Master
Gold Nova I
Gold Nova II
Gold Nova III
Gold Nova Master
Master Guardian I
Master Guardian II
Master Guardian Elite
Distinguished Master Guardian
Legendary Eagle
Legendary Eagle Master
Supreme Master First Class
Global Elite
Understandably, many people who play CS2 competitively, at some point think about what it would be like to reach the global elite rank and think what would it take to reach it.
Sadly, less than 1% of all players will reach this rank and will probably not hold it for very long as this is where the best of the best play. Even some pro CS2 players who get paid to play professionally don't hold, or even try to hold, this rank.
This is because there is a fatal flaw in the ranking system. While no AI is perfect, there are some in-game factors that come more into play than others when it comes to increasing rank.
This is why on a competitive level team play and strategic play is the most important value than just getting kills.
What Does Your Rank Say About You?
Your CS2 rank implies a lot about your skill level and play style, along with if you play with friends or alone. Below is a breakdown of what your rank says about you and how a higher rank isn't always better.
Silver (Silver 1 To Silver Elite Master)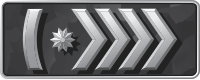 Starting off here in silver ranks isn't uncommon, especially for a new account. You are probably newer to FPS and didn't play many casual games before jumping straight into competitive matches.
Almost no settings have been changed, such as crosshair sizes, and mouse movement speed and you have little game/map knowledge.
This is okay as we all start somewhere and, being the first ranks, it is easy to climb out of here with some small tweaks to your gameplay.
Gold (Gold Nova 1 To Master Guardian 2)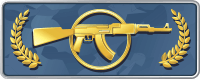 Jumping straight to where most people spend their CS2 rank career. With the average rank distribution heavily landing within these ranks you will find a wide variety of skill groups here from those with an amazing aim and average game sense to others with huge map knowledge and prediction.
Once here, you can quickly pick up both good and bad habits that can help you climb ranks higher than expected. As unexpected tactics can pay off leading to a win. At these ranks, you are expected to have started changing settings in your game to suit your play style.
Such as setting your mouse sensitivity to match your preferred muscle memory movements and a cross-hair that is informative or out of the way.
As this rank distribution provides more than 32% of all players here you will find that many of the games you're in will have players of the same rank and skill group.
Distinguished (Master Guardian Elite To Supreme Master First Class)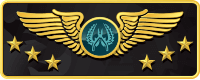 At these ranks, aim and map knowledge aren't the only factors to help increase your elo points. Here it is very important to start playing like a team, quick response and good communications are very helpful to improve the chances of winning.
By now, you typically would have played hundreds (If not thousands) of hours on the same 5-10 competitive maps to fully understand each aspect of play on both the terrorist and counter-terrorist sides. The matchmaking system still takes all actions into account and leaving a game at this rank can create a hard time clawing it back.
If you want to continue climbing from here you will need to start treating each game as important as the last. Evening losing one strategic round here can lose you the entire game.
At this point, nothing written here could possibly directly help you improve your ability. The best course of action is to try and find someone who also is very good at the game and ask for tips on improving, maybe even playing with a premade team.
Global Elite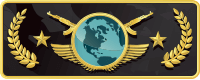 Legendary eagle and supreme master first class ain't got nothing on me! By now you have been playing certainly over 1000 hours and are a part of the 1% of top players. But it's not all sunshine and rainbows.
Now that you are here it is important to play as many matches as possible to ensure you remain sharp and keep your muscle memory on point. This is a competitive sport after all. The skill groups here are now playing a major factor and one person doesn't define a team.
It's almost more important now to find teammates that match and complement your skill set, otherwise, the match scoreboard will quickly move out of favor.
All CS2 Rank Icons
Here you'll find all the CS2 ranks in convenient PNG format, so you can easily use them in your own designs.
Whether you're creating a new wallpaper or just want to show off your rank to your friends, these icons will come in handy.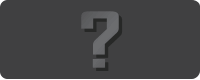 Finding New Teammates At My Level
If not stated enough above, it's important that within a team-based game, it is important to have a good team. From the lowest ranks to the global elite everyone needs some friends.
A good place to start would be going onto google and searching "CS2 LFG". LFG stands for "Looking For Group". I won't link one here as the game has been out for so long that many LFG groups have come and gone.
Playing On Private CS2 Servers
While playing a ranked game is what will increase your rank, sometimes you want to warm up before you dive head first into a high-intensity game.
Private servers hosted by people/communities can be great for this as, depending on the settings, can help warm up exactly what you want. Games such as retakes or arms race are personal favorites.
These servers can also have their own ranks, their ranking system works exactly how they want and can be made public to let people know exactly what they are being scored on.
Being arguably the most popular competitive FPS in the world it has attracted many people to cheat and hack. Because of this, a popular private rank system has grown and become very popular over the years as they have their own anti-cheat and CS2 ranking system.
Their system works by having its own client that detects inconsistencies within a person's game client and can determine if they are hacking, sometimes even better than the original game.
If you want to join a private CS2 server to increase your rank on their network, then check out our article here.
CS2 Rank Distribution Chart
Here is our Counter Strike 2 ranks distribution chart based on over 100,000 players in the Southeast Asia region. This data has been collected over the past 6 months so this is what we find the most accurate among active accounts.
The most popular rank is Gold Nova III.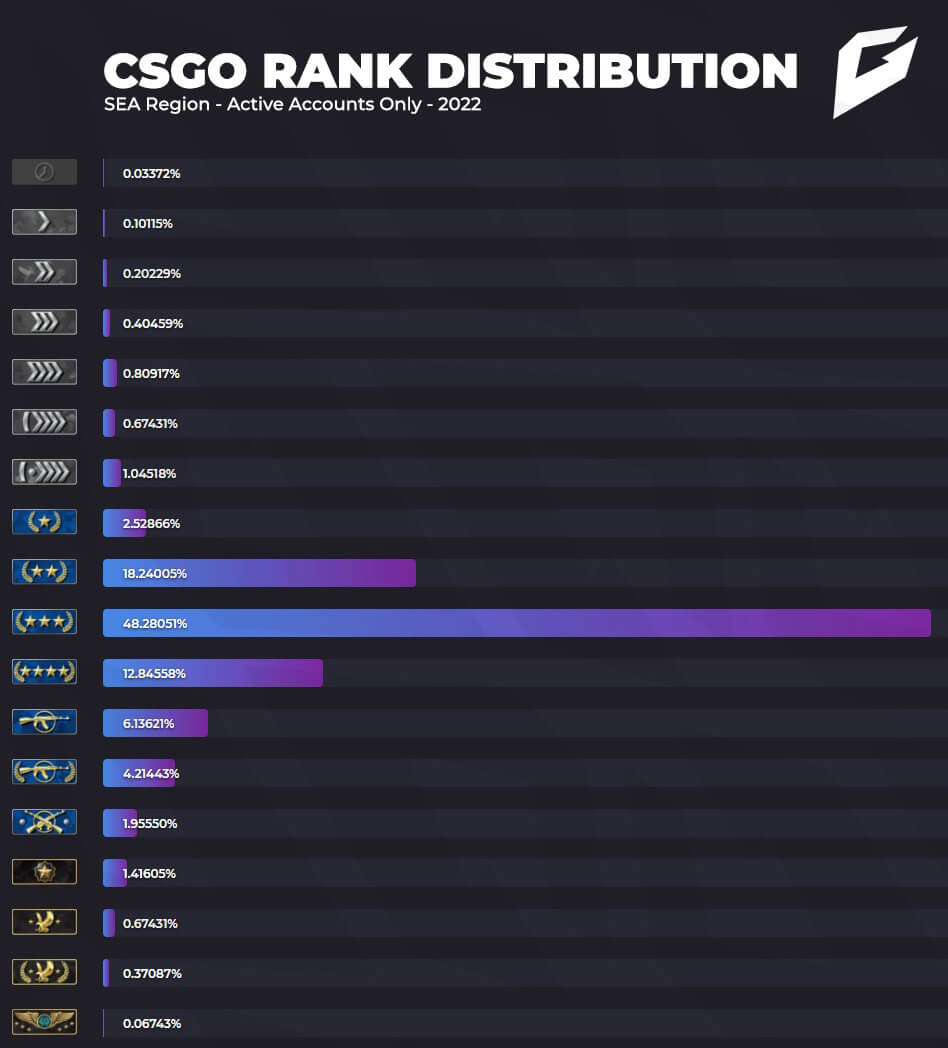 What is the average rank in CS2?
As of 2023, the average rank in CS2 is Nova 3.
CS2 has been restructured and moved the vast majority of players down in ranks. Shifting the average rank to Nova 3.
What Is A Good CS2 rank?
Not everyone has time to attempt at being the best. If you want to be in the top 10-20% of all CS2 players then any rank with "Guardian" in the title is something to strive towards. More so ranks such as Master Guardian Elite or Distinguished Master Guardian.
What Ranks Can Play Together In CS2?
Ranks within a few levels of each other are fine but you can't have a gold nova 1 playing with a legendary eagle master. However, you can play with any rank as long as you have a 5 man stack. This will allow all CS2 ranks to play together.
How Do I Check Someone's Rank In-Game?
During the game, you are able to see the people on your team's ranks, usually, someone will have a different rank than you. Also, at the end of the game, you will be able to see the opposition's CS2 rank.
How Do I Win Placement Matches
Just like playing normal matches winning is very important. However, you can improve your elo by doing more during the match, especially having more frags (Kills) than everyone else. Remember, it's important to try and land in your skill group as you might find getting a higher rank will lead to less enjoyable games.
When Should I Stop Playing
Just like any sport, sometimes rest is good. Taking a break and coming back tomorrow will usually help keep your rank if you are on a losing streak or your last match was worse than expected.
Ranking System Conclusion
At the end of the day, kills are the most important part of any FPS. More kills lead to a much higher chance of winning and higher ranked players achieve this.
Focus on not dying and positioning yourself to gain the advantage against your opponents and make sure you play as a team.
Hopefully, this article has helped you move up the CS2 ranking system to the higher ranks.