"E-GO" E-Sports Mobile Tracking
E-GO is a new up and coming E-sports tracker that can be found on both the IOS and android app store (Currently in the Beta stage of testing). While currently only support two of the largest games still in 2020, Counter strike global offence and Dota 2. With an average daily player count of over 1.6 million combined, E-GO has started off strong with these two titles and we're here to explain how it all works and why they have the capability to shake up the E-sports tracking game.

E-Sports Tracking Vs Sports Tracking
I'm sure you know how popular sports like American football and soccer are all around the world but within the world of E-Sports there has been a fast growing competitive scene in almost all multiplayer triple A games that are being released. Most notably Dota 2 which as of 2019 had a total prize pool of 40 Million USD, the highest of all E-Sports.
Because of this sort of money more and more tv and radio stations are starting to stream and commentate on each large game that occurs. Betting sites are also starting to pick up lesser-known teams as the audience for betting money grows.
This is where EGO slots in. Making it as easy as possible to track and keep updated with your favorite teams for when they have their next games and who they will be up against. All this while not being stuck behind a computer trying to find bits of information about the game.
Pros Vs Cons
Pros:
Easy on the go real-time stats
Watch E-Sports Live
Track your favorite teams 24/7
Create a personalized fantasy team
Get notifications when your team goes live
Currently free to test
Prize pool updates
Cons:
Still in BETA
Limited to CSGO and DOTA 2 for now
Launch price unknown
Limited team information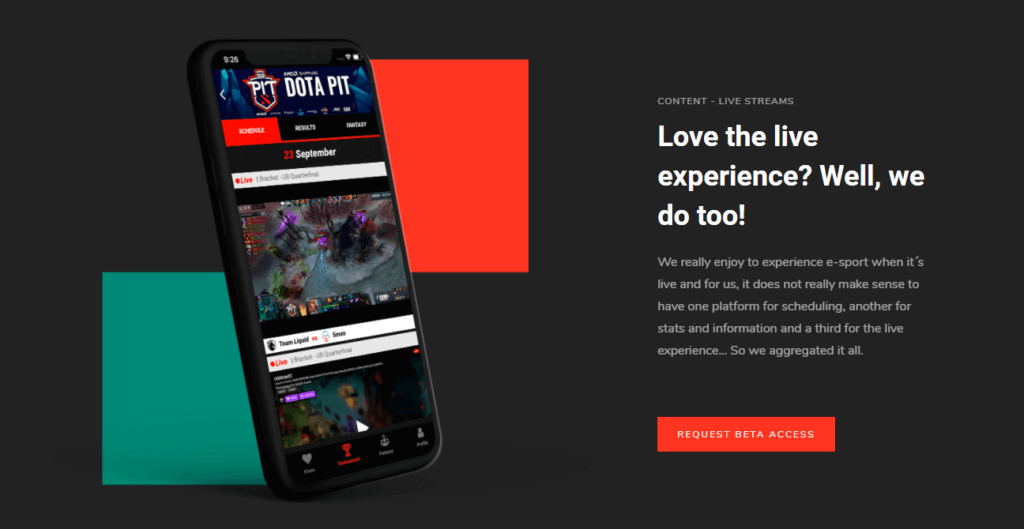 Live E-Sports Coverage
One of the biggest reasons to create an account with EGO would be their Live E-Sports coverage. With up-to-date stream coverage of events all around the world they keep you in the loop with the latest stats and wins. Nothing is worse than having to switch between apps to find the scheduling then player information to finally watch it live on a third app that you had to put your personal details in for all of them.
Final Thoughts
Here at GhostCap we love to see innovation within the gaming community especially if it challenges and creates competition. We see how EGO has started to make moves within the E-Sports realm and is shaking up the competition to know they can't become complacent. While they bring a lot of good options to the table they still have a while to go to create a polished product and bring that to market for a set price. With this in mind, we highly recommend at least giving it a go in its Beta form as it is free to try out. Let us know what you think and how you go with it all.