Have you ever had to sit on the floor while playing video games?
I know I have!
I spent hours on end playing video games and just didn't really care for my posture or comfort.
Now that I've grown up, things have changed a little bit but there's still one thing we can't seem to live without, the gaming desk!
Between our work projects and personal lives, it seems like our desks always need an update--especially when it comes to something as simple as a new gaming setup.
The best part about getting a new desk is that you don't have to break your bank account or go into debt because there are so many options out there for people who want high-quality products at low cost.
All you have to do is take the time to read our round-up of the best gaming desks below.
Best Gaming Desk: The Top 7
Below are the best gaming desks that you can buy today according to the members of the GhostCap Gaming Discord.
1. Cougar Mars Gaming Desk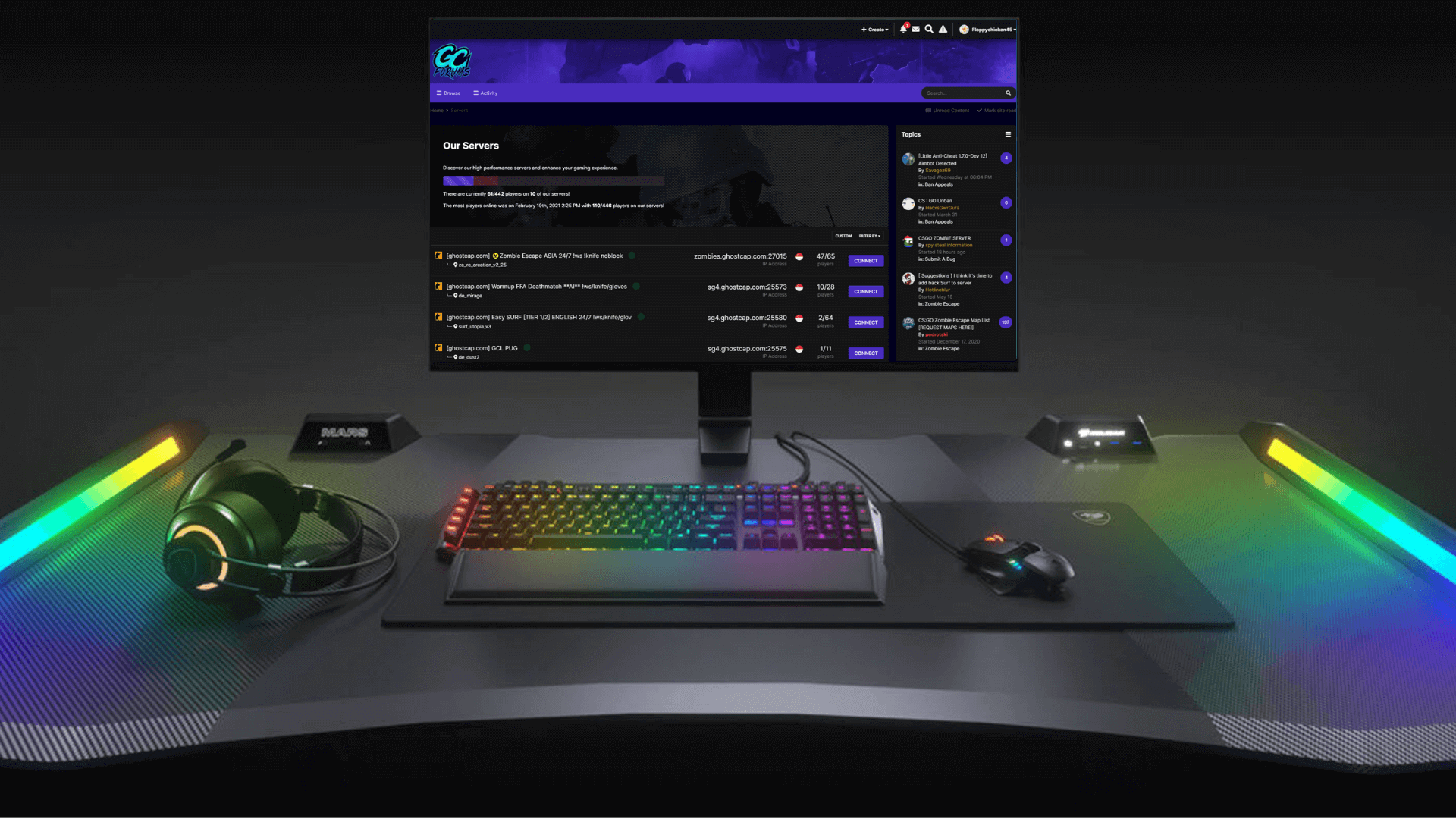 [content-egg module=Amazon products="us-B08JTQCSNX" template=list]

Designed from the ground up to be the gaming desk of your dreams. Ticking all the boxes of gaming esthetic, ergonomics, charging options, and much more. The Cougar Mars Gaming Desk is widely known in the streaming community as the desk to get. Set to make it feel like a cockpit, the desk is designed for one purpose only, gaming.

While it does have a lot of room to house all of your other desk-related items it goes out of its way to keep these in check by offering USB charging, clean lighting buttons and headphone/ microphone jacks, right in front of you.

Easy to set up out of the box, it's no wonder how this desk managed to reach the top spot of one of the best gaming desks in 2021. Doing so while also only coming out in late 2019.
Pros
Carbon Fiber Accents
Large RGB lighting Strips
Sturdy Steele Construction
Adjustable Height
2. Motpk Gaming Desk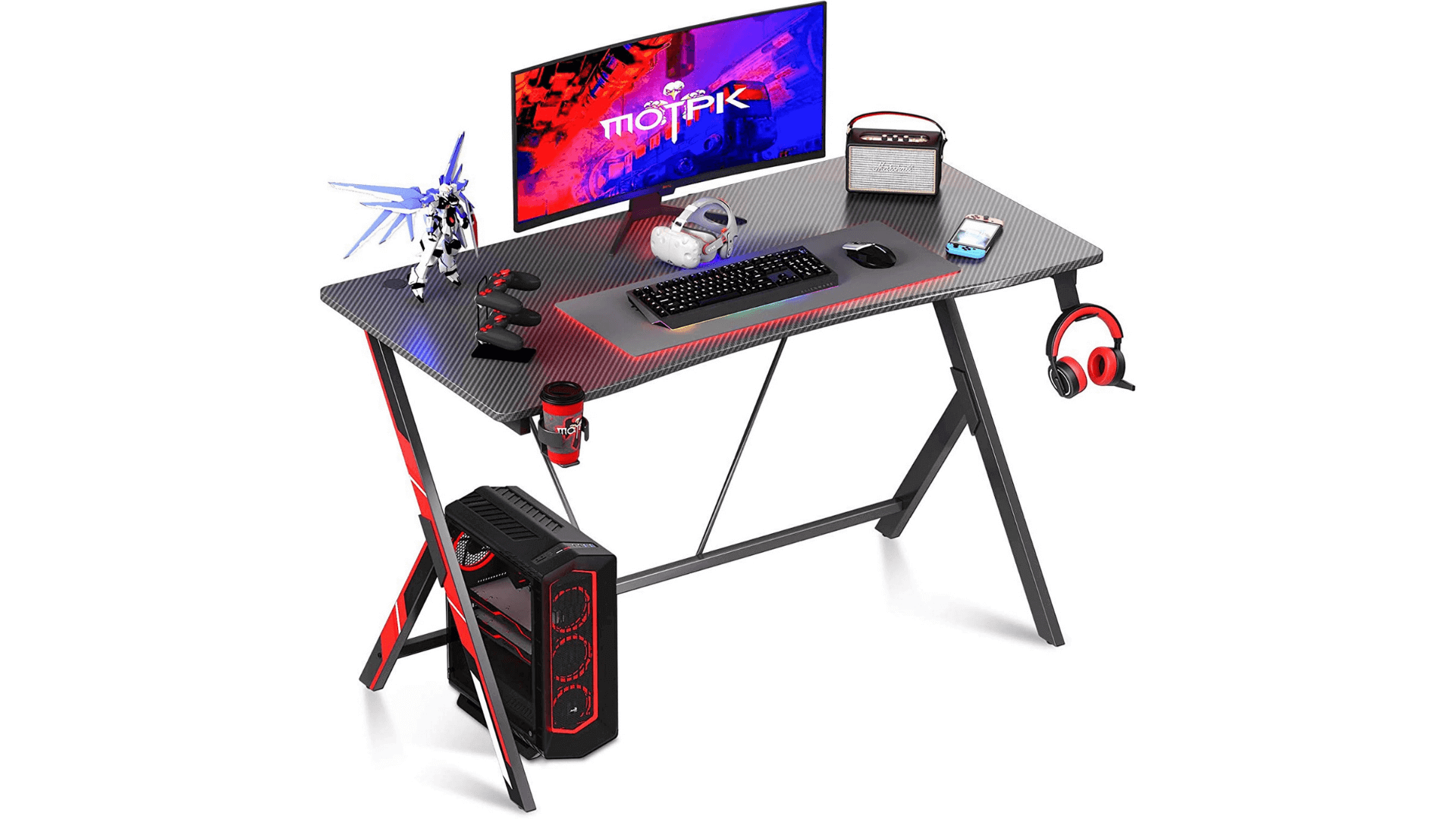 [content-egg module=Amazon products="us-B087ZW4TFL" template=list]

The Motpk Gaming Desk offers both the expected gaming aesthetic and ergonomic design expected in a modern gaming station. From large open legroom to carbon fiber accents. It's the little things this desk offers that people are drawn to. This is why it has over 280 reviews on amazon.

With red RGB being one of the more popular gaming accent colors, the Motpk Gaming Desk is on point with its target audience and their expectations. It is because of this that it is very reasonably priced, great for gamers on a budget or those who don't know exactly what they are looking for.
Pros
Curved Front For Arm Support
Red Gaming Accents
Carbon Fiber Look
Adjustable Feet Height
Metal Construction
3.It's Organized Gaming Desk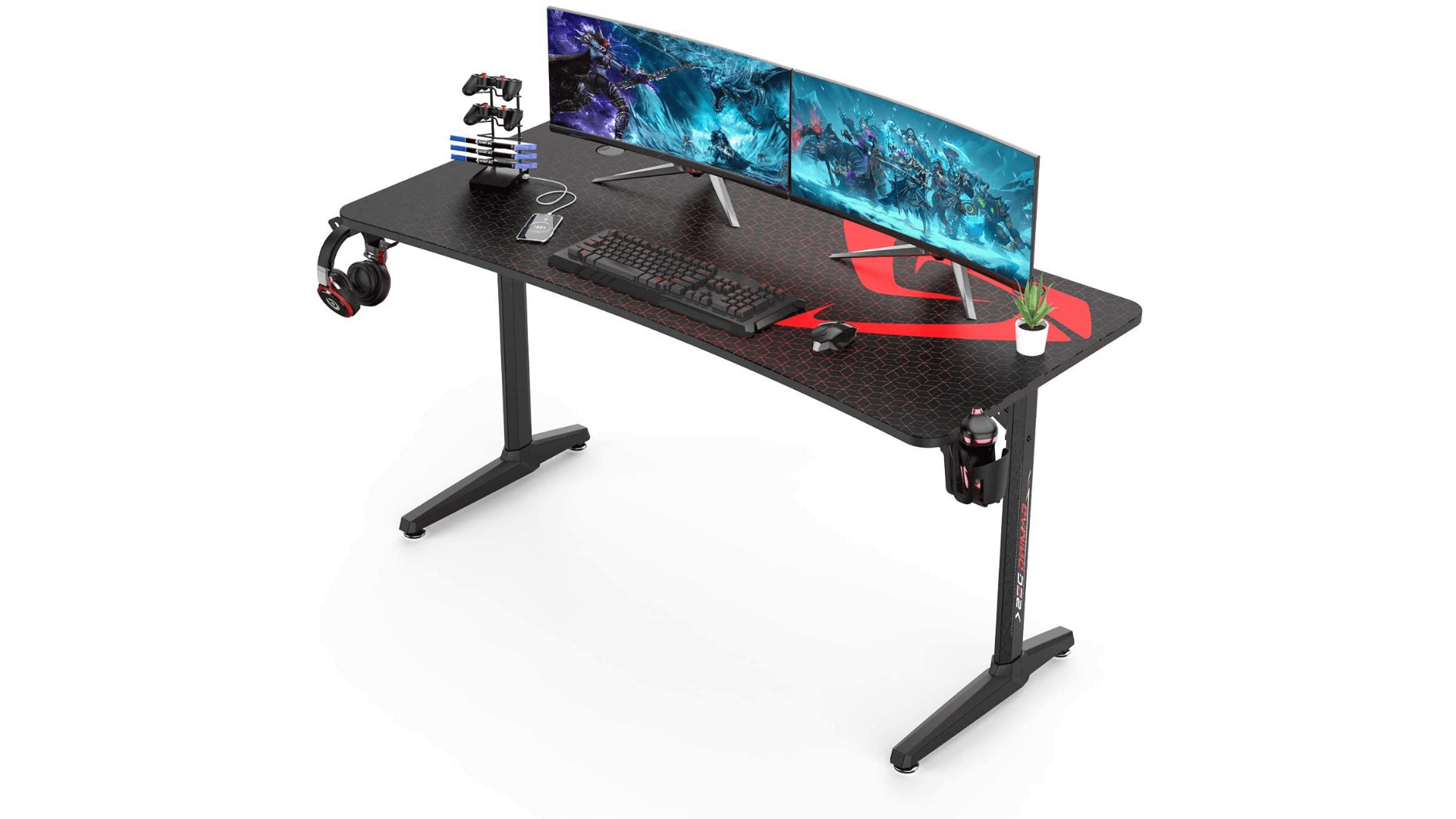 [content-egg module=Amazon products="us-B08CQSYQ2X" template=list]

Designed for both laptop and desktop gamers in mind the It's Organised Gaming Desk has been designed from the ground up to offer both a strong product along with the expected gamer look. With the necessary cup and headphone holders, this desk is branded top to bottom in a matt black, red-accented finish.

With the largest size at 60 inches, it has all the desk space and more, to have both a massive unobstructed mouse pad and room for a few controllers or even books. Speaking of the mouse pad, this desk comes with one and it is big, 60 inches in fact. It takes up the entire length of the desk to allow gaming from any area. Why this isn't a more common option is unusual as it ends up being very practical.
Pros
60 Inch Mouse Pad
Durable design
Large Work Station
Charging Handle Rack
Cable Management Rack
4. Walker Edison Soreno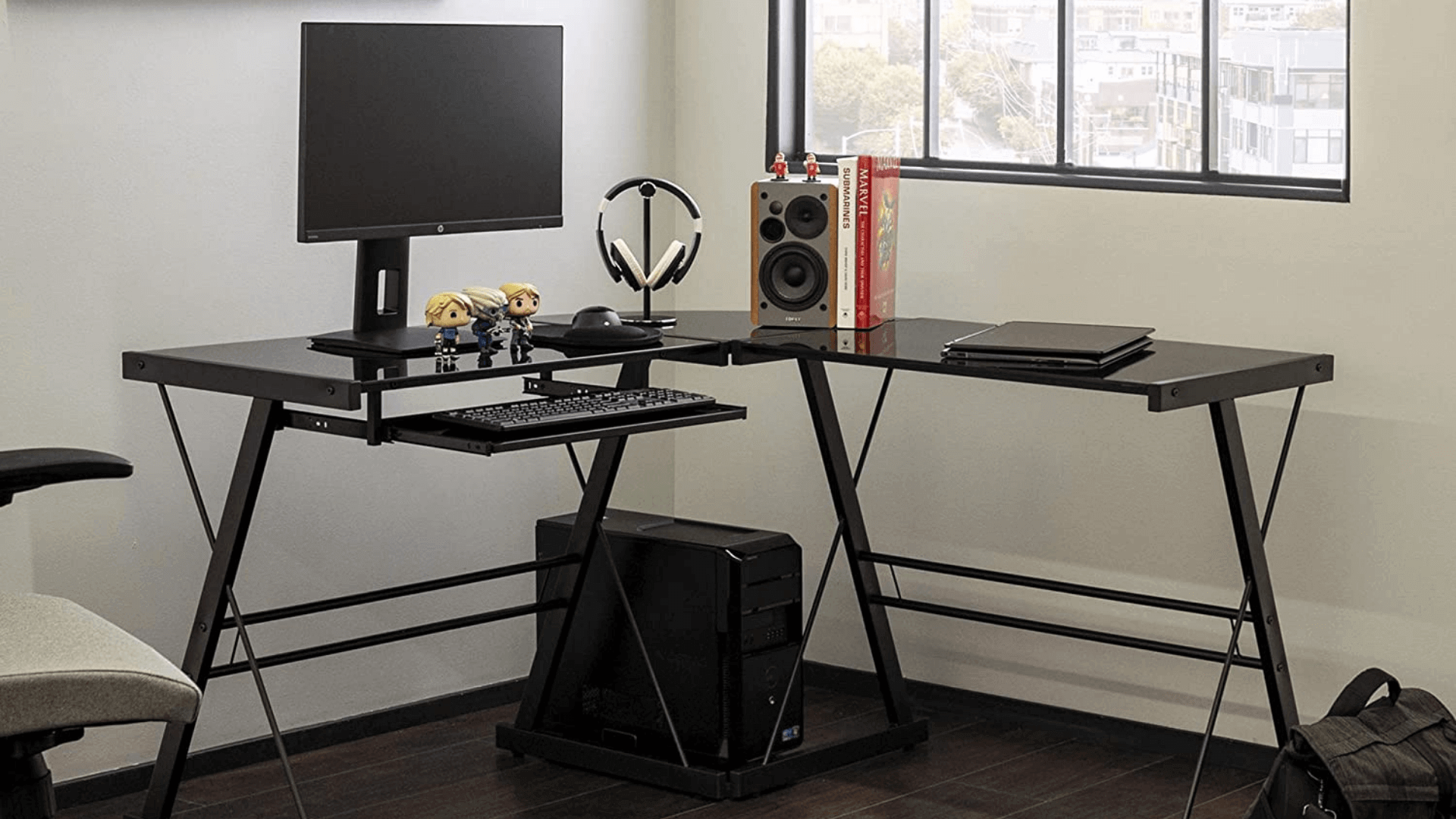 [content-egg module=Amazon products="us-B001FB5LE8" template=list]

Seen as the photo finish desk, this is one of the few at its price point that offers a tempered glass finish. An aesthetic a casual gamer would normally prefer. Offering large desk space along that the L shape offers and a clean finish is something many people are looking for in their desk. The popular X leg design is becoming more of a trend recently as it both looks nice and keeps the structure strong and clean at the same time.
Pros
Sliding Keyboard Tray
Polished Tempered Glass
Modular Options
Multiple Colour Options
Over 10,000 Reviews
5. Mr.Ironstone Gaming Desk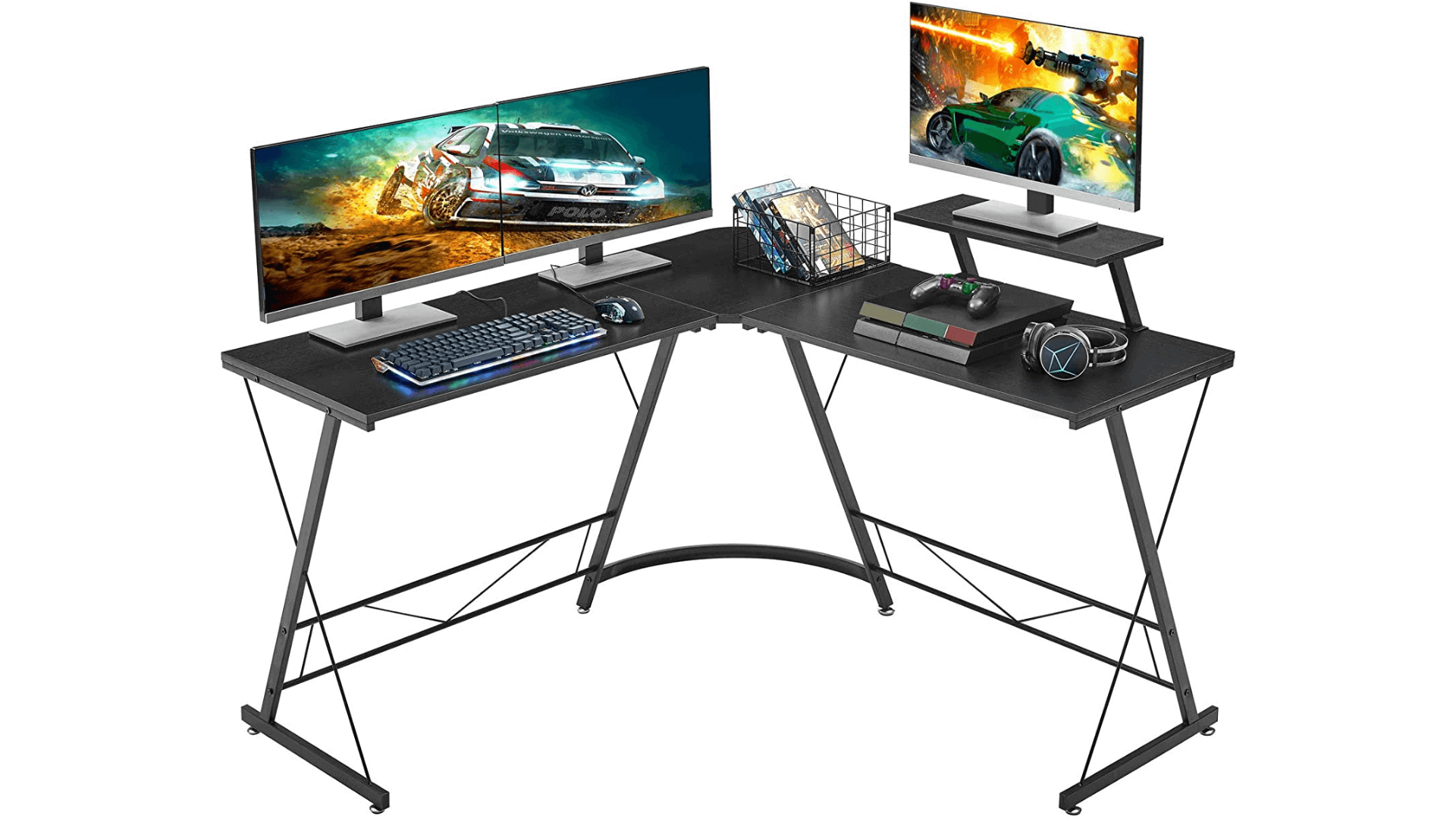 [content-egg module=Amazon products="us-B082Y16QZ2" template=list]

The most popular gaming desk in the world didn't reach this spot without having every aspect achieved. From an amazing price point to all the expected extras such as durability and large desk space. With many options of finishes such as black, carbon fiber, and rustic brown it has the most popular finishes. Designed with an L shape it is perfect for smaller rooms with limited spacing.

With over 25,000 reviews and a solid 4.7 stars on Amazon, this gaming desk has truly been designed with the average gamer in mind. Having come out in only late 2019, this desk is both modern and unique in its design as no others come even close to achieving all points of purchase.
Pros
50 Inch Desk Space
Easy Assembly With Instructions
Fast Shipping Time
Modular Design
Adjustable Monitor and Feet Stands
6. Eureka Ergonomic 160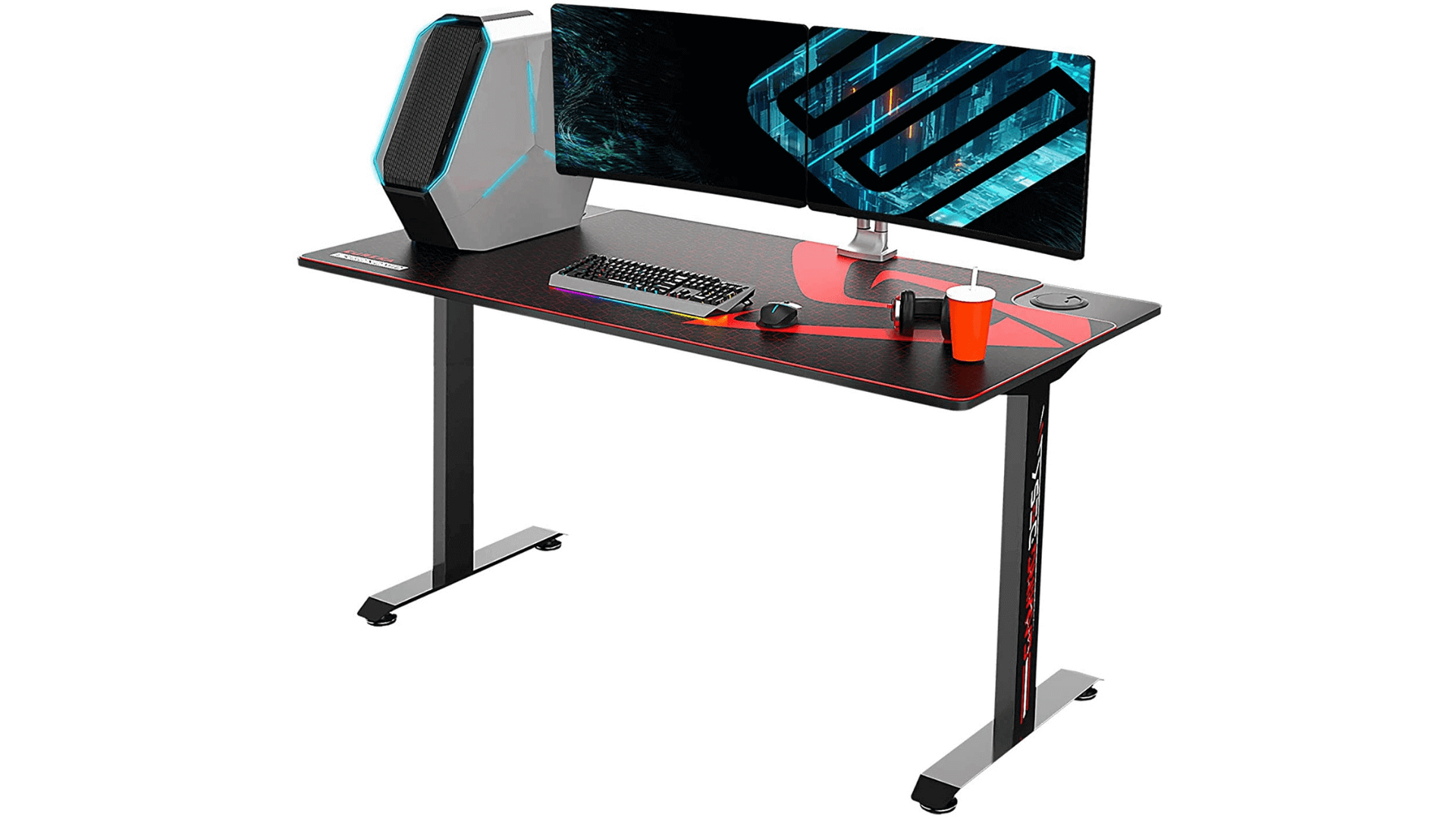 [content-egg module=Amazon products="us-B08LL8C59Q" template=list]

The Eureka Ergonomic 160 is one hell of a desk for gaming. With carbon fiber texture, a fancy-designed mouse, and a wide frame, it's definitely the ultimate gaming must-have. The desk's 30-inch height is enough to allow you to keep your CPU without using too much space.

Its large mouse pad can fit both the gaming keyboard and a mouse. The Eureka Ergonomic 160 also has a cable management grommet that helps keep the cables underneath the table. The desk also comes with sturdy i-shaped metal legs which are great for its price point.
Pros
Sleek design
Heavy-duty base
Easy transportability
7. Arozzi Arena
[content-egg module=Amazon products="us-B07F1K6GKB" template=list]

Sometimes all you're looking for is the basic design with minimalistic accents. No RGB required. From start to finish the Arozzi Arena desk was created for the person looking at a desk as a usable surface and not a statement. Offering only the bare essentials to keeping it simple such as cable management holes and a high-quality mouse pad.

Keeping it simple seems to be all you need with this build.
Pros
Machine Washable Mouse Pad
Cable Management Holes
Minimalistic Design
Sturdy Construction
What to Look for When looking for the best gaming Desk
What works for you will not be the same thing that works for another gamer. However, there are a couple of instances where we all agree to some point. That said, there are a few considerations to look for when shopping for a gaming desktop.
Price
Firstly, you should check your pockets and see how your budget fits with what you need most. That's because the price tag of gaming desks varies widely from $100 to $2000.
Size
The size of the desk will determine how many accessories you'll be able to fit in the desk. If you have a laptop and a monitor setup, you'll need a small-frame desk.
Aesthetics
Although not critical, the aesthetic appeal of your desk can make a huge difference. For instance, if you don't have a gaming room, you'd want a desk that blends well with the environment.
Storage and Organization
You'll also need a gaming desk that has storage and organization features like wire management, shelves, and cup holders.
Why do you need a gaming Desk
While gaming desks may be designed to give you peace of mind while gaming, there are other important features too. For instance, they can double up as office desks or for professional purposes.
Gaming desks are designed with extra accessibility features not available in normal desks such as adjustable height, cable management, or even cup holders. Plus, game desks are the best solutions to keep all your gaming accessories in one place with minimal clutter.
Want to build your own gaming desk?
While buying a desk is always going to be easier than building your own, there is something satisfying about making something yourself. Check out the ins and outs of doing it all yourself to create something truly custom!
Conclusion
Gaming desks are useful and the choice of which one fits will depend on what you need as a gamer. But still, there are a couple of general features that you must look for like material, price, comfort, among others.
Always look for a gaming desk that will not only beautify your room but will also amplify your gaming experience.