Are you tired of getting bullied by other players in your Discord every time you join the channel?
Maybe you're sick of having to repeat yourself all the time?
Or perhaps you want to start recording gameplay and don't want the sound quality to be so bad it scares off all your viewers?
Well, what If I told you that these days you could pick up a budget gaming microphone that won't sound trash.
It's true!
Heck, even our best pick is EXACTLY the microphone I use for my Youtube videos.
Now I know what you're thinking: "Why should I listen to you?"
And the answer to that is simple.
I run a gaming community of over 4500 gamers who are just like you. They're in Discord every night chatting and gaming. (You can even come and join us here)
Plus I have had most, if not all the different types of microphone setups you can own.
From your basic headset microphones to using a standalone audio interface with an XLR microphone and a big stand. I have had it all.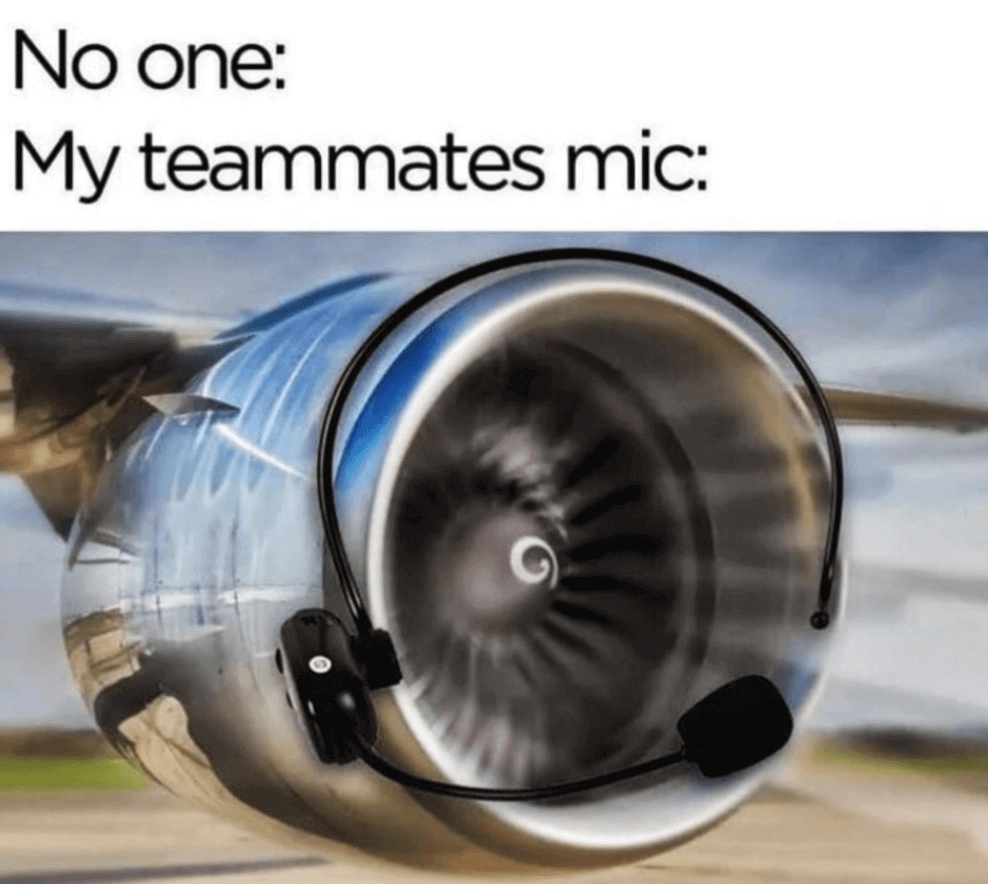 With that said, I'll also give you some other options for gaming microphones based on the feedback of our 4000+ member Discord group.
Here are our top picks for mics as chosen by the GhostCap Gaming Discord community.
1. Razer Seiren Mini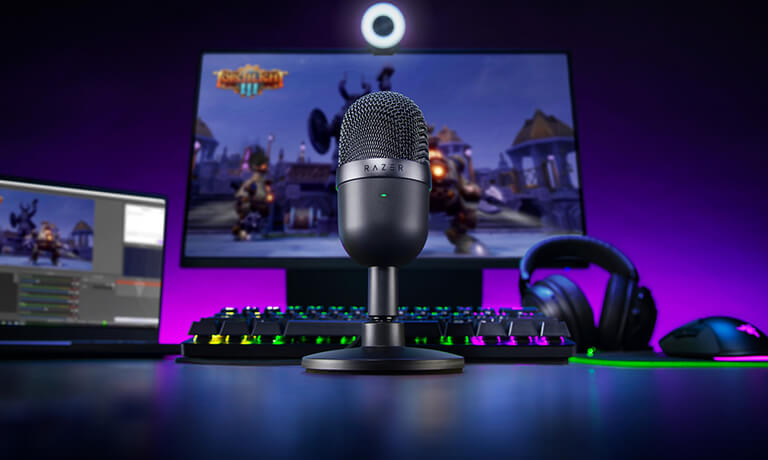 If you're in Discord every night with the boys, you can't go past the Razer Seiren Mini. This is the personal microphone I use and for 3 simple reasons.
It's compact so it doesn't take up a ton of room on your desk.
No frills, no settings to adjust, and a true plug-and-play USB microphone.
The price is really low compared to other gaming mics on the market.
Overall this is the best gaming microphone for anyone who just wants to plugin a standalone mic, doesn't want to worry about all the random options, and just gets good audio. No extra software is required.
Compared to other microphones on this list, the Razer Seiren Mini is one of the smallest and takes up the least amount of space on your desk. This makes it optimal to put it in front of your keyboard when you're chatting to your teammates in Discord.
The plastic construction of the Razer Seiren Mini is durable and also lightweight (perfect for someone like me who travels a lot). It's also a benefit to me compared to my last mic (Fifine USB 669B) which was made of metal and heavy.
It's stubby with foam padding on the bottom that seems to stop most bumps and knocks on your desk. From what I have found it also doesn't get background noise from my mouse when I lift off and flick so that's a nice feature.
There is no gain knob or dials to adjust on this mouse as it is truly a plug-and-play piece of equipment. Honestly, this is great especially after having to tell everyone how to set up their Blue Yeti in Discord and TeamSpeak all the time. For the most part in a home or office, you don't need any of those functions. If you really need to adjust the volume of the Razer Seiren Mini, you can do it via the default Windows digital audio mixer.
One of the problems I had with my last microphone (Fifine USB 669B) was that I had to always adjust my gain. Even in the middle of a match, Discord would adjust the gain and I would forever have to tweak the volume on the microphone itself.
Some people have complained about the stubby mic stand but to be honest, an extra inch closer to your mouth isn't going to make or break the sound quality of this USB mic. If anything it's more of a benefit because if you knock the mic over, its less of an impact on your desk (and yes, you will knock over a desk mic lol)
If you want the microphone closer to your mouth, you can use a boom mic arm such as the Rode PSA1. The Razer Seiren Mini works with it directly out of the box and it's a good stand. If you want to mount it to a budget boom arm, then you can do it simply by buying a 5/8" Male to 3/8" female thread adapter from here.
Another feature of the Razer Seiren Mini is the ability to "tilt" the microphone back and forth. This honestly is a pointless feature as it makes no difference to sound quality, especially on the stock stand.
Overall the Razer Seiren Mini is going to be the best gaming microphone for people of all budgets as it just gets the job done for a good price and with great sound quality.
| | |
| --- | --- |
| Razer Sieren Mini Technical Specs | |
| Pattern Type | Supercardioid |
| Frequency Response | 20 Hz-20 kHz |
| Sample Rate | 44.1 kHz - 48 kHz |
| Connector | Micro USB to USB A |
Pros:
Compact design
Comes in white, black, and pink
A true plug-and-play experience
Great price for any gamers budget
Cons:
The USB cord has an odd head design so replacing it may look ugly
Tilting makes no difference to sound quality
No mute button
2. Blue Yeti X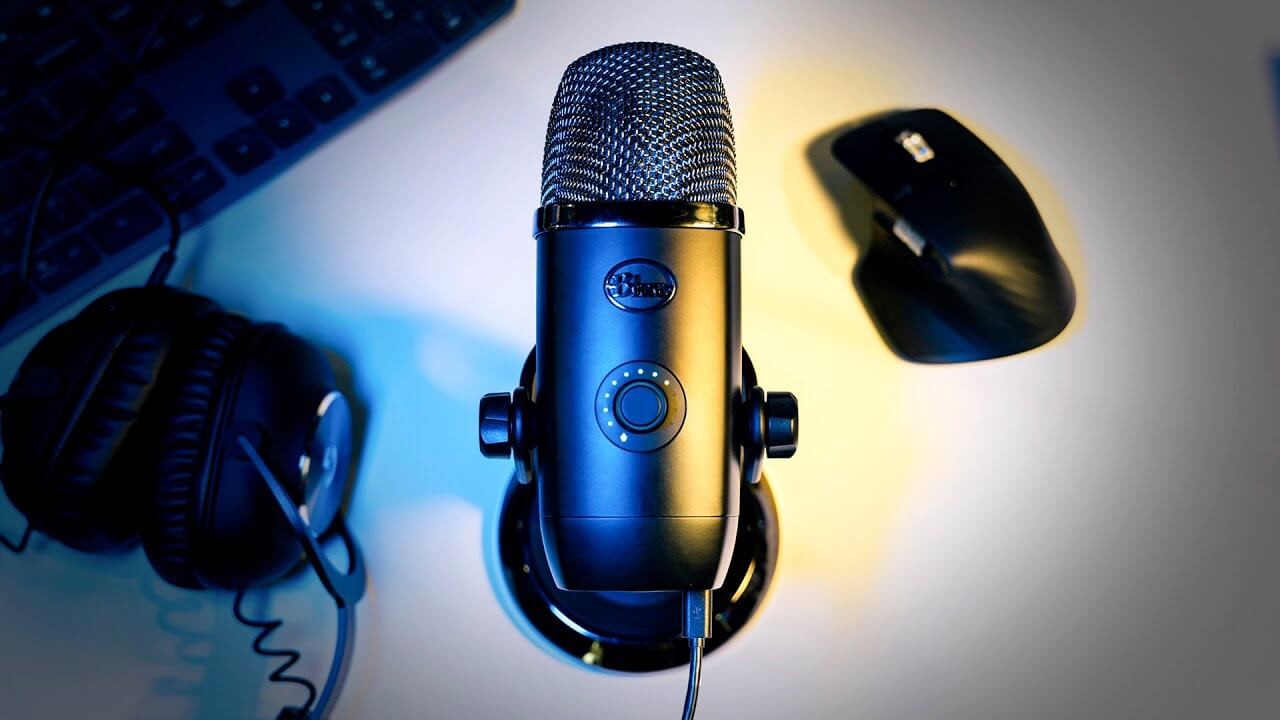 If you're looking for your first streaming mic, then the Blue Yeti X is for you.
No doubt if you ask in any gaming community what Microphone people use, lots of people will reply they're using the original Blue Yeti. For a while in the early 2010s, the Yeti was the go-to USB condenser microphone, and for good reason. The sound quality was amazing and at the time it was an affordable option.
Then 2018 happened and Logitech decided they have some money burning a hole in their pocket so they end up buying the company Blue Microphones for $117 million dollars.
While the Original Yeti was a smash hit, the mic still had some issues. The biggest one is the setup and configuration. It was super confusing for most people and it ended up in people having to use 3rd party software like Virtual Cable to set up things like a noise gate.
Seriously, the number of people I had to tell to "make sure the dial is set to the setting that looks like a butt" would most likely end up in the hundreds range
However, Logitech solved these issues in 2019 with the release of the Blue Yeti X and with the integration of the Logitech G Hub Software.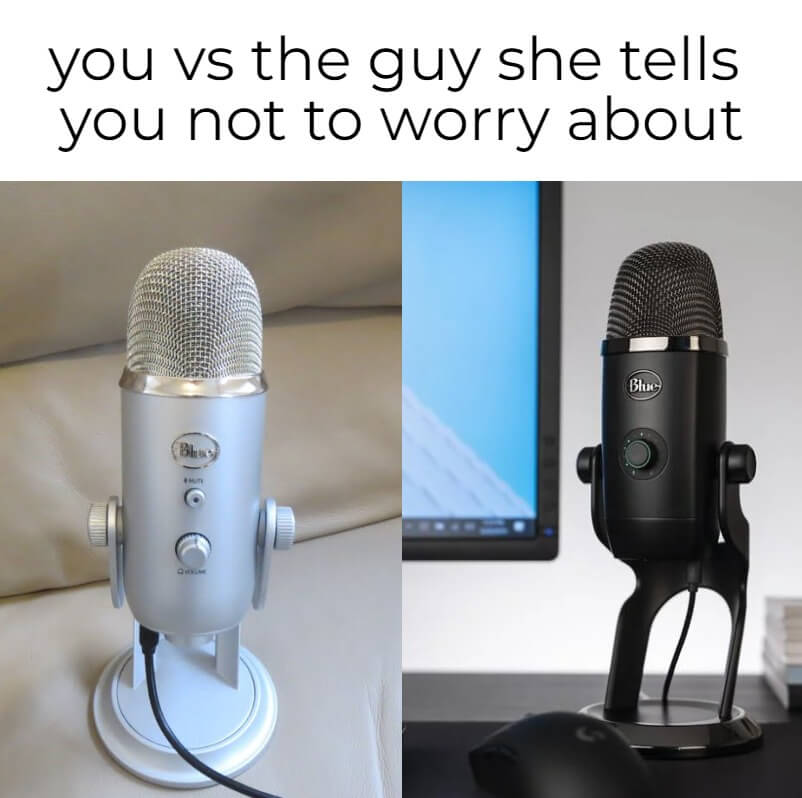 The Blue Microphones Blue Yeti X is the best gaming microphone for those who are looking for better sound quality but are also looking for a starter streaming microphone.
Using the Logitech G Hub software, you're able to set things such as:
High pass filter
Noise reduction
Expander/Gate
Compressor
De-Esser
Voice EQ
Limiter
Normally these features are reserved if you're using an external audio interface or third-party software. The biggest feature for streaming is going to be the compressor. This means you can scream and shout into the microphone without annoying your viewers. Please note that out of the box, the presets are bad so you will need to do some tinkering to get the best sound.
Thankfully ou can plug your headphones directly into the microphone which eliminates the need for an external audio interface. This means you can control the volume of your headphones directly from the Yeti, along with the "blend". The blend mode is so you can hear yourself and background noise directly in your headset.
While this is mostly made for musicians, it's also helpful if you're using noise-canceling headphones but need to listen for the pizza guy at the door.
There are 2 main dials on the Blue Yeti X. One is to control the pattern mode, while the other is a multi-function dial.
Compared to the other gaming mics on this list, the Blue Yeti X has four pickup patterns (Cardioid / Omni-directional / Bi-directional (switchable), Stereo mode). What this means is you can have the microphone sitting in front of you with a cardioid pattern for gaming, or if you have someone on the other side of the microphone (for podcasting, etc), you can use the Bi-directional pattern instead.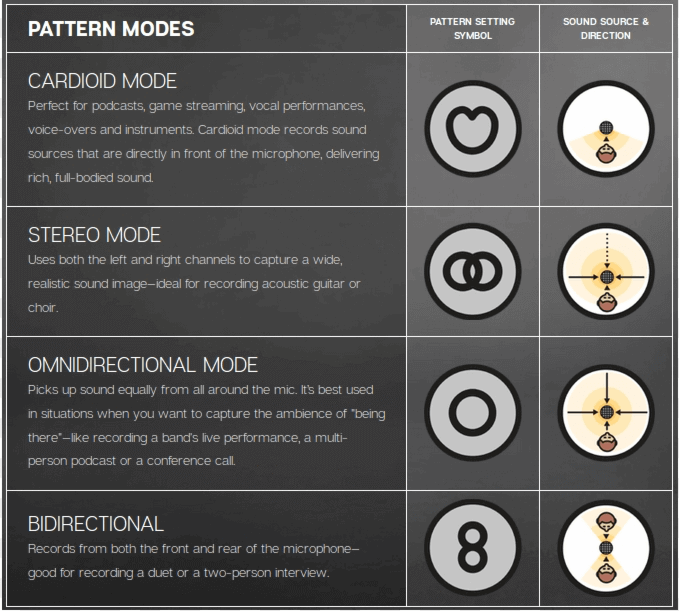 The other dial on the Yeti X is the multi-dial on the front. What this does is allows you to mute the mic via a tap, or hold to control the headphone volume, set the microphone gain and control the blend of noise from the microphone into your headphones.
The dials are also illuminated so you can use it as a voice meter to check if your mic gain is set without having to use something like OBS to check.
Pros
Clear vocals
Easy-to-use layout
Stable stand
Subtle retro appeal
3. HyperX Quadcast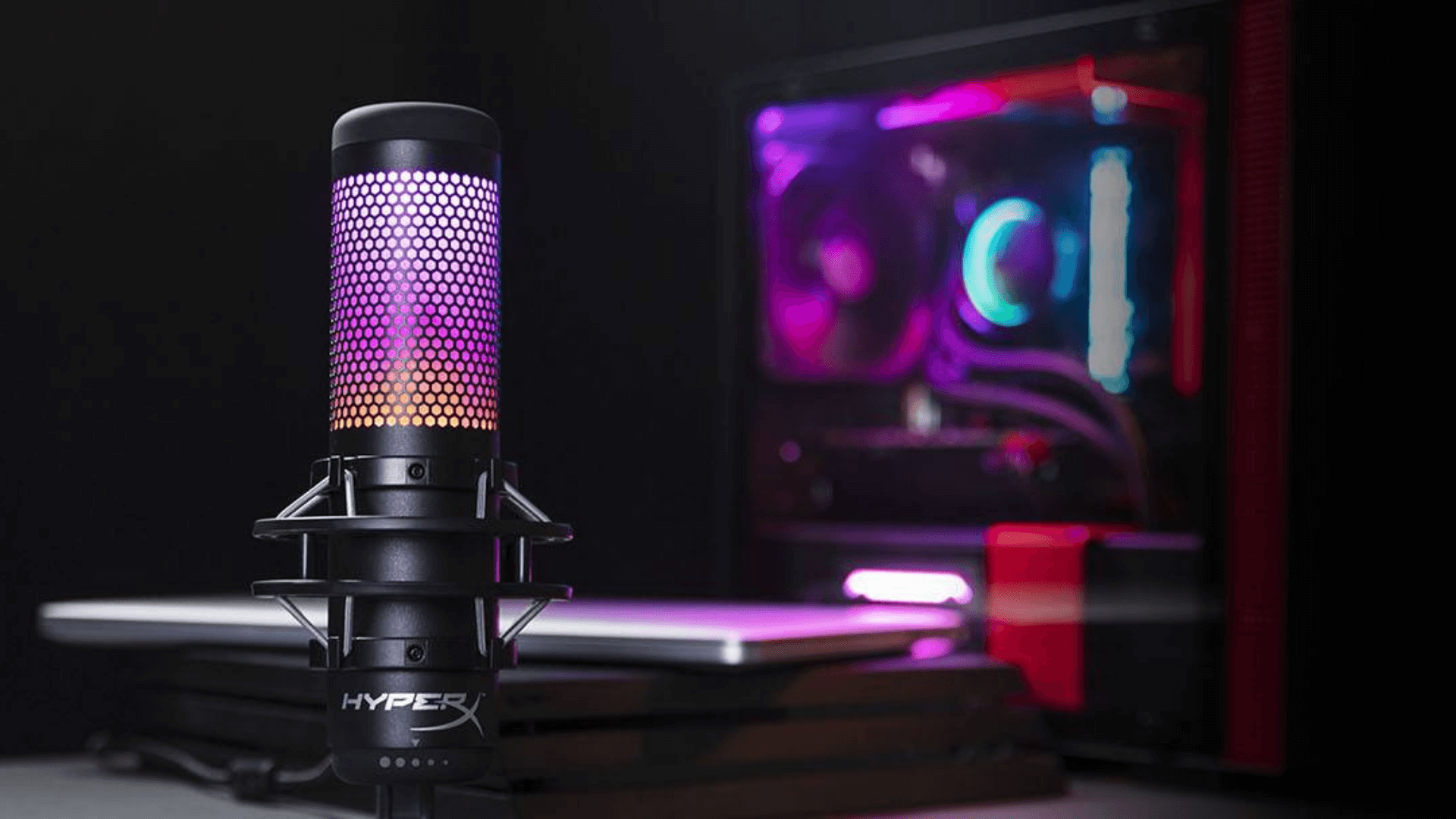 The HyperX Quadcast had to join this list for its unique warmth and clarity that it brings to your vocals. It is equipped with so many aesthetics that are specially designed for gaming purposes. Starting with a striking red light that illuminates when the mic's on which turns off when you tap the top of the mic.
The gaming microphone also has a sturdy stand that holds without the worry of falling. Coined from its name Quadcast, this mic was built with a diaphragm to accommodate four polar patterns. It is the best setting for a live recording studio or, in this case, a gaming environment.
Pros
Four polar patterns
Decent 48 KHz/16-bit audio
Crystal clear sound
4. Elgato Wave: 3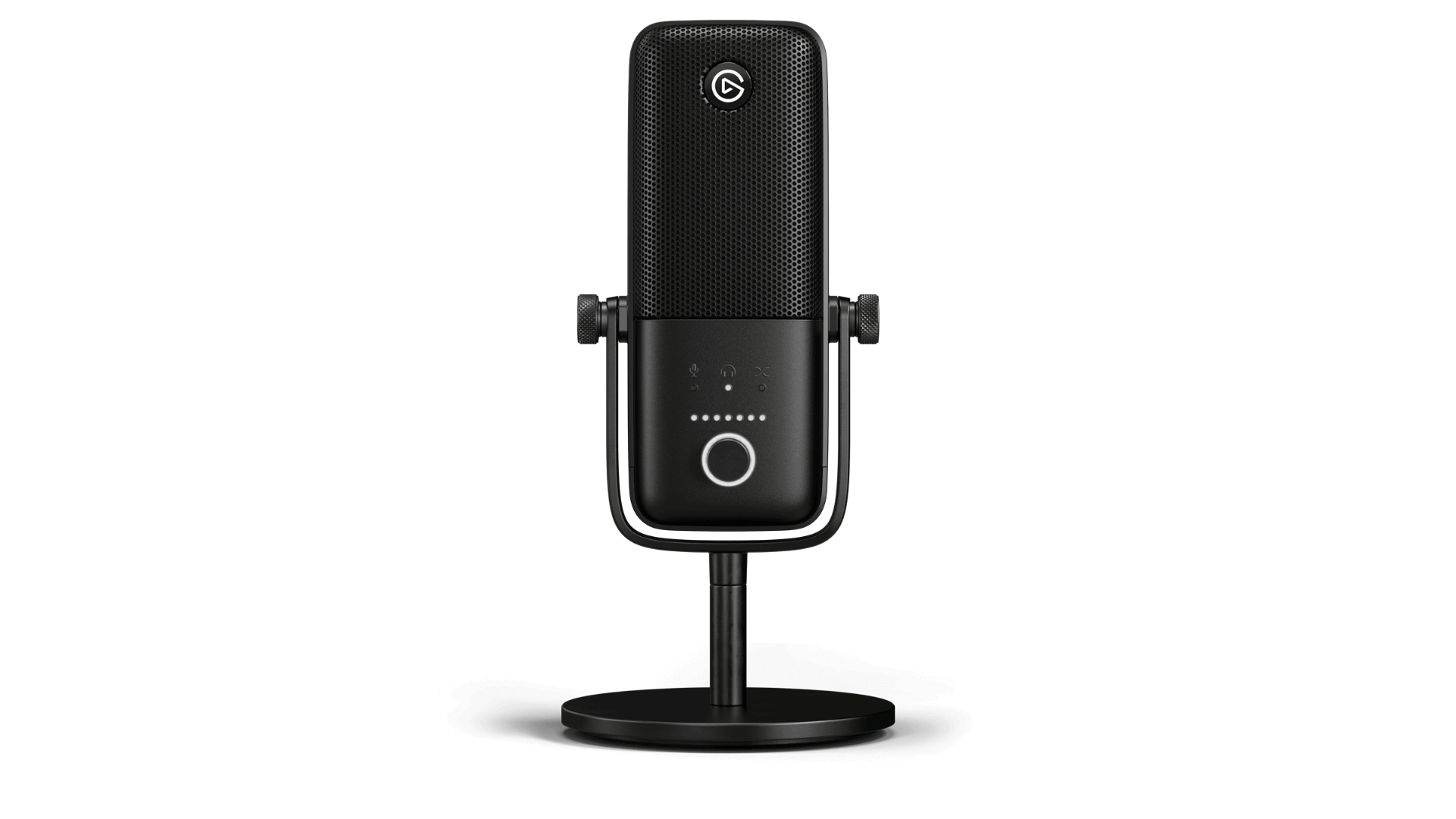 If you're still looking for a more advanced microphone in terms of features, then you'll have to grab the Elgato Wave: 3. It is a perfect microphone which comes with a Clipguard feature powered by the Elgato Stream Deck. The Clipguard limits all high levels and makes the sound compressed without too much loss of audio quality.
This mic, however, has only one polar pattern type and makes it less diverse than most models on this list. But it still has features like a handy pop shield and other software and hardware sets that make it fit for gaming.
Pros
Built in pop-shield
Anti-clipping technology
Portable
In-built pop shield
5. Beyerdynamic FOX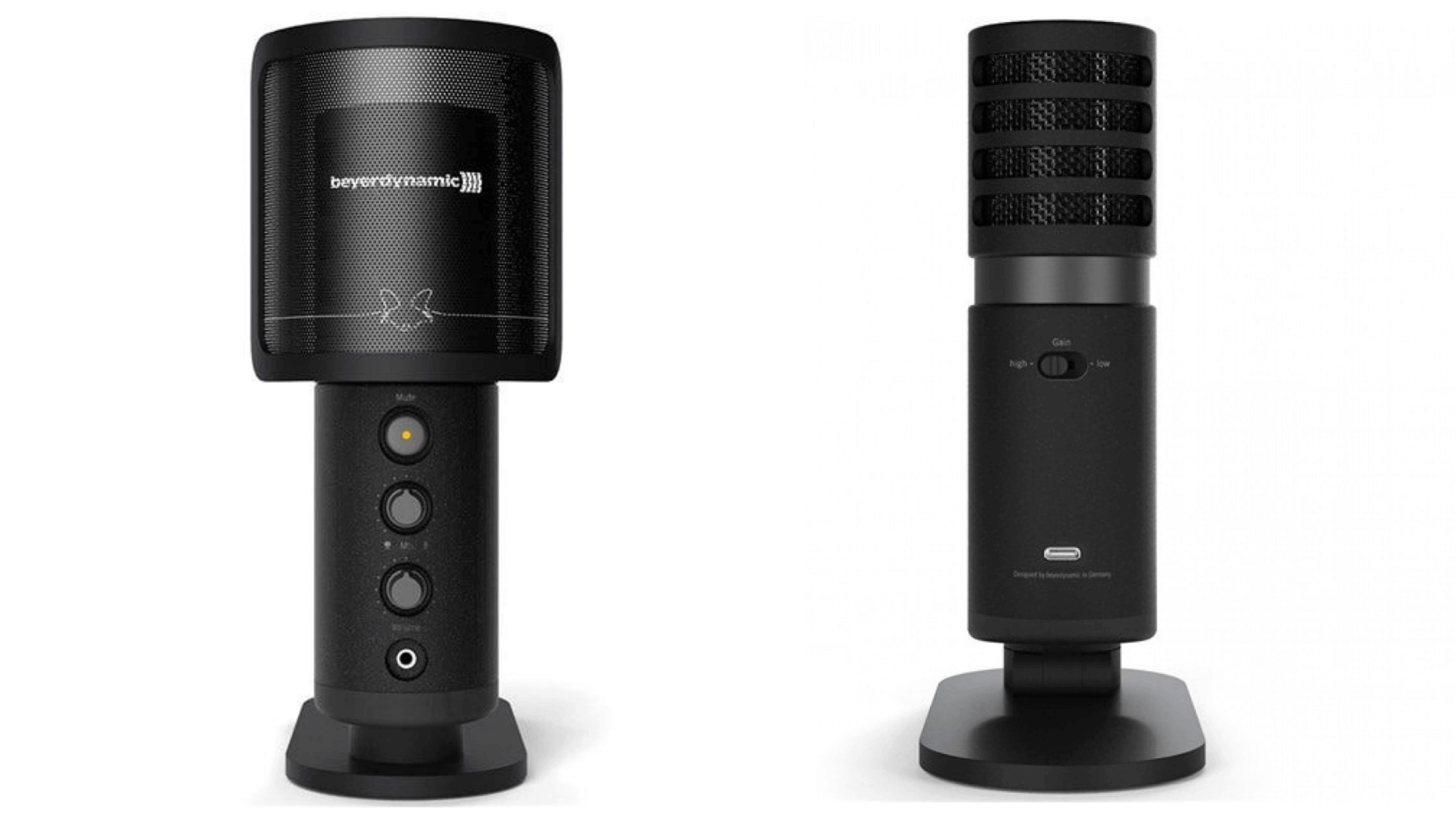 This microphone has earned credits across all streams including pro audio recording, streaming, and gaming. The company's experience in audio equipment explains why the microphone has a compact no-fuss design.
It has a sound output of 96 KHz/24-bit, which is probably the highest so far. When it comes to streaming your gaming experience or eSports, this sound quality is the best as it's compressible. The mic's "stem" has a mix, volume control, and a minijack for headphones. There's also a mute button located on the top part of the mic.
Pros
Great pop shield construction
High-quality audio, 96KHz/24-bit
Studio mic capability
6. Rode NT USB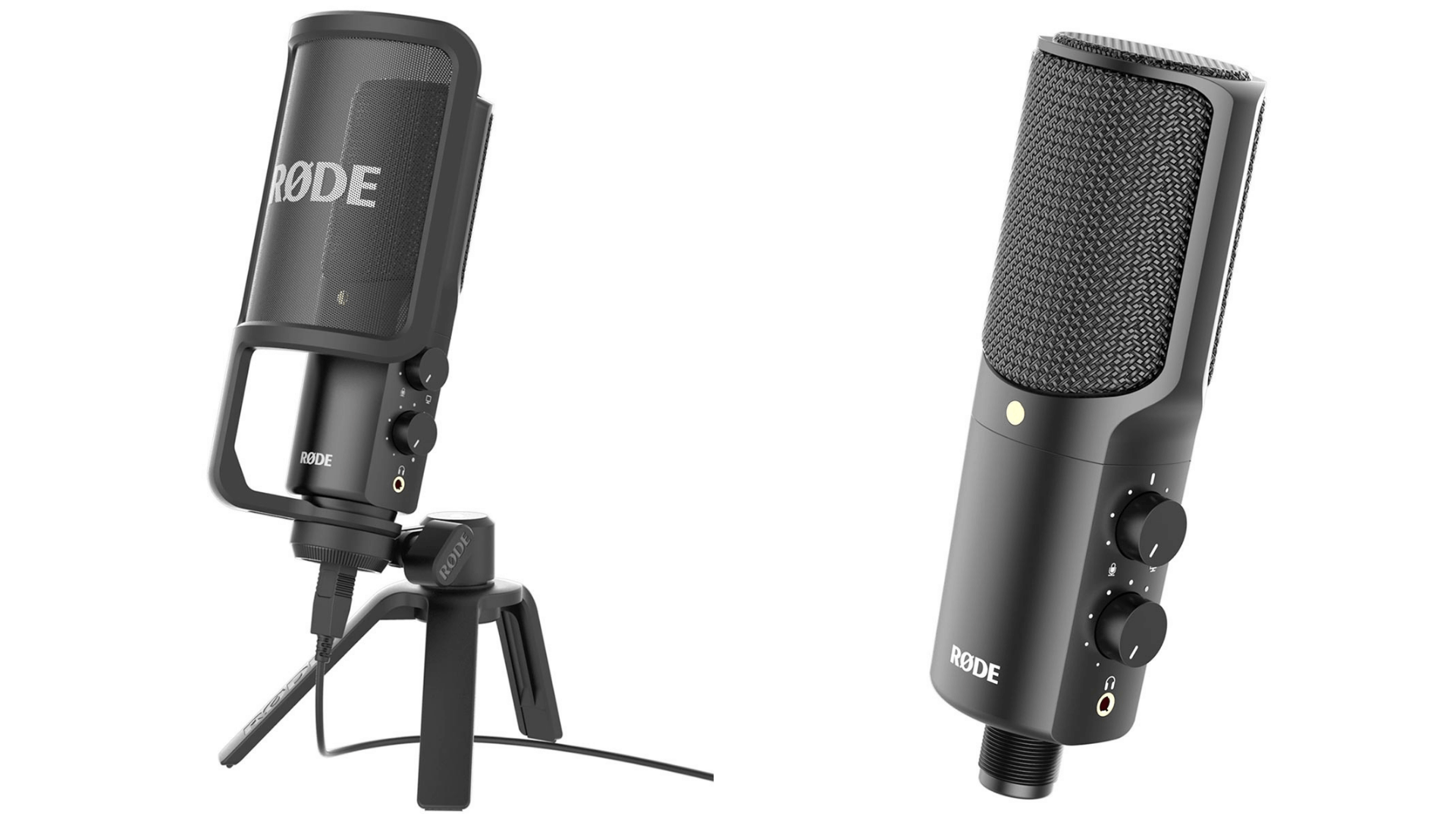 The Rode NT microphone is the best type for gamers looking for a more professional appeal while playing online. It is a sharp-looking USB microphone that looks similar to the retro studio microphones.
Apart from looking the part, it is a high-performer as well. The Rode NT produces high-quality sound and its additional pop shield makes the sound even warmer. It is also an affordable microphone for those looking for something within their budget.
Pros
In-built pop shield
3.55mm monitoring headphone jack
Polar pattern
7. Razer Seiren X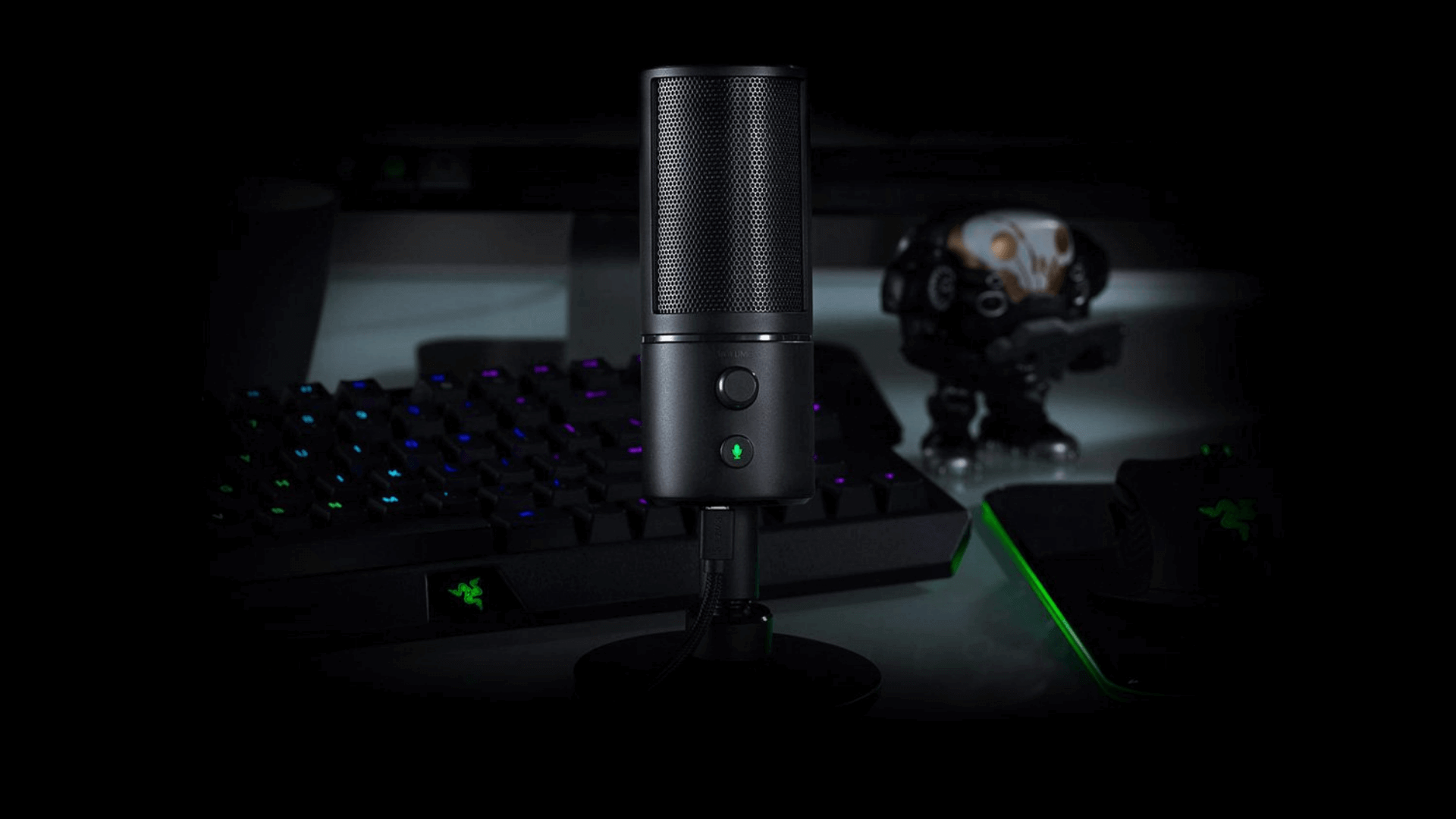 The Seiren X series is a perfect microphone for those who travel frequently. It may not have the gist of our top line of gaming mic, but it still packs the same kind of punch. Razer has beefed up its functionality with a lot of versatile features and it can be used for other purposes like podcasting and Twitch streaming.
Pros
Extra condenser
Supercardioid pick-up pattern
In-built shock mount to remove vibrations
3.55mm monitoring headphone port
8. Samson G-Track Pro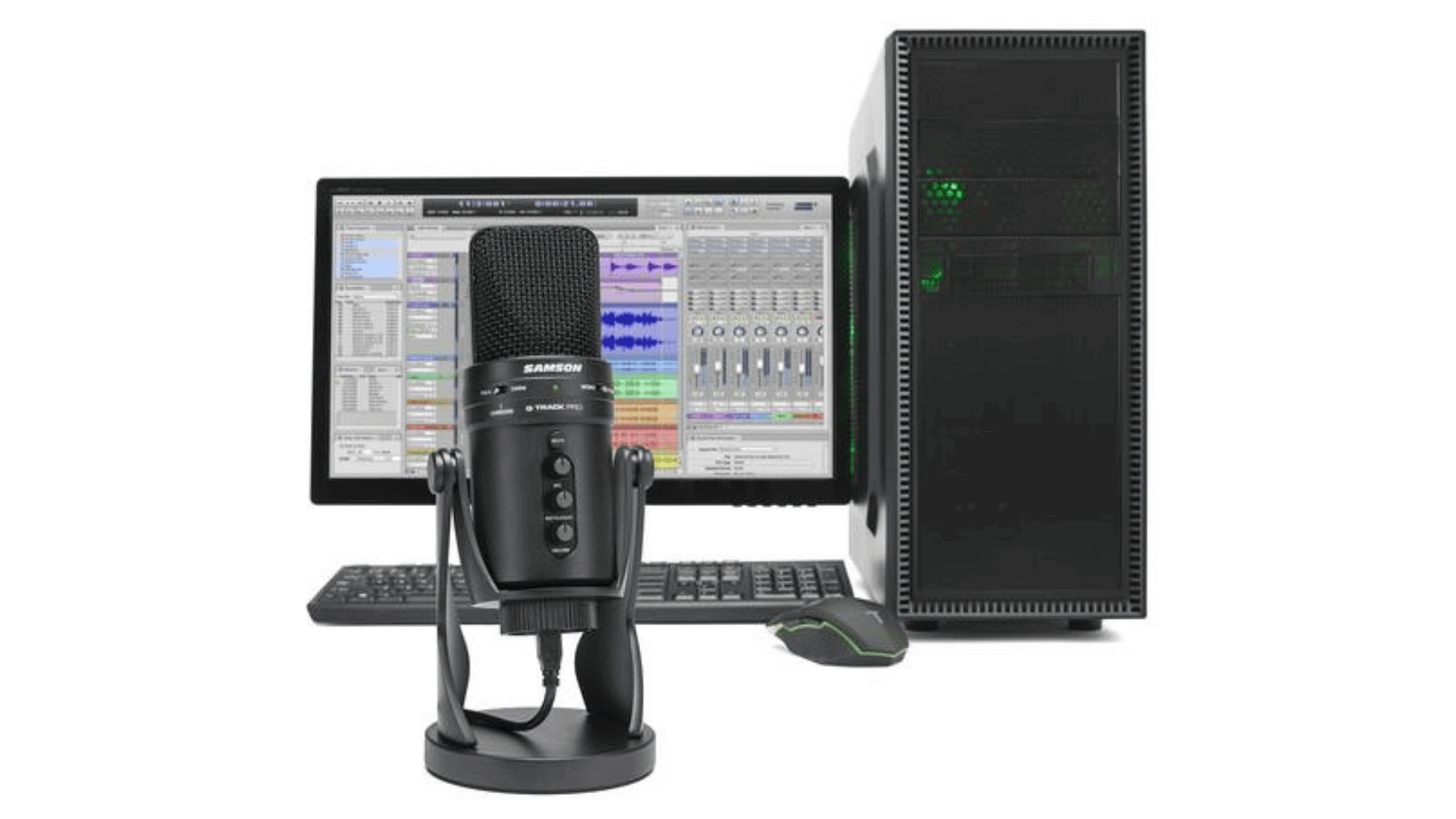 Finding great audio equipment for gaming can be daunting but with titles like the Samson G-Track Pro, the search becomes effortless. This mic comes at a reasonable price and delivers the kind of quality you expect from high-end models.
It has a professional look and has to-the-point controls that are on the front of the microphone. The side-address condenser is great for multi-purpose use as it produces several polar patterns. The result is a sound that caps at an impressive 96Khz/26-bit quality
Pros
Easy front panel controls
High definition audio
Sturdy die-cast zinc construction
Why do you need a gaming Microphone
The evolution of gaming has brought a lot of accessories to basic necessities. Before all you needed was a pair of headsets and you were good to go. But as features came up like chat and live streaming, the need for a microphone was inevitable. A great microphone will not only make your voice audible but will add the fun to it. Microphones are essential particularly in multiplayer mission games that require tactful thinking.
What to Look for When looking for the best gaming Microphones
If you ask most gamers, a good mic equals a good game. Well, that's because the microphone has a crucial, yet overlooked function in interactive games. But let's look at the factors you need to look out for when choosing the best microphone.
Plug-and-Play Compatibility
A great gaming mic should be easy to set up and play. They shouldn't have complex software and settings that take up much of your time. Check if your mic comes with a proprietary software before setting up.
Set-Up
Look for a mic that will fit your sitting position. Check if it sounds well when you're close or away from it. If you don't have much desk-space you can opt for a clip-on gaming microphone.
Cost
The cost is definitely worth checking out as gaming microphones can easily have markups of $150+. If you're planning to have some fun gaming then go for cheaper options. The highly-priced mics are efficient in professional gaming avenues.
Sound surround
When you are choosing microphones in terms of the sound surround, make sure you understand terms like cardioid, stereo, omnidirectional, and bidirectional. They are all manners in which the microphone picks up your sound.
What mic do most streamers use?
Cardioid microphones isolate unwanted ambient noise from the microphone's front. It is the common choice for live broadcasting since its block sounds like the loud fans clattered or the clatters from a computer.
What microphone do most gaming Youtubers use?
Best Microphones For Videogame Streaming. Yeti USB Microphones. We start out with the Blue Yeti USB microphone. . Razer Seiren PRO Elite XLR USB Microphones. ... SamsonMeteor USB Microphone. ... - Blue mic. Snow-ball mic. . RADE NTUSB USB condenser microphones.
Is it worth getting a microphone for gaming?
Whether you enjoy playing or gaming, it is a good decision to invest in a gaming headset. However, I recommend buying the headphones and a removable headphone for the sound. A Headset can save you money on the cost.
What is the highest quality mic?
What's a good microphone? Blue stilli. Is this a good microphone? ... JALAB talks. The most efficient microphone in $100. ... Hyper X solo casing. The best microphones at reasonable rates. ... Sterling SP170MK. Excellent service, superb value. ... Sennheiser Mk400 : ... Yeti nanos. ... MovoUM700? ... Hyper X QuadCast S. Stilli. Optimal earpiece. ... JLab talks! What is better microphone than $100? ... Hyper X Solocase. The best microphones for the money. ' '.. Sterling SP15SMK. High level performance at very good rates. ... Sennheiser Mk400. ... Blue yetis. Nanos. ... Movo UM 700. ... HyperCAST Quadcast S:
What mic should I use for discord?
If you only use it to record a call rather than streaming it is likely your best bet. The software is great and is extremely intuitive—perfect for calling via Skype, Zoom & Discord.
What is the cheapest good mic?
What is a good budget Microphone? Is it worth it? Then you have a good deal. Shure S48-LC Overall. Samson goes portable? Snowball White ICE USB Fifine Microphones. The audio talks are going. ShureSM58. AudioTechnica AT2020. KG 120. Shure SM48LC Best in General. Samson goes mobile. Snowballs Black iCE USB. FIFI MICRO PHONES. Jlab Audio Talking Go. ShureSM58.. The audio-technology AT2020. AKG – 114.
How expensive is a good mic?
Microphones are generally around five hundred dollars. A good quality mic costs about $300-800. It has a variety of applications to use mics. Mics under $500 are ideally suitable for certain situations.
Do expensive mics sound better?
Fidelity and precision are costly qualities to add to microphones, and that's where they tend to get better. It is not necessarily necessary that your voice sounds more powerful with a more expensive microphone.
Conclusion
Even as we've really worked hard to bring out the best microphones for all your gaming needs, the ball still remains in your court. You should check the value of what you are paying for and this will give you an edge.
If you have a tight budget, don't just go for cheap mics that'll not be audible. Look for the best in sound quality but may be compromised in terms of aesthetics. Find value first then make a purchasing decision.