Minecraft is a great game, but sometimes you just want to hunt people down without all the hassle of building things.
Not to mention Minecraft can be a lot of fun, but it's also time-consuming. You have to build a shelter, find food, and gather resources before you can even think about hunting others players.
If this sounds like you, then Manhunt Servers might be the future for you. These servers are pre-made and ready for action, so you can start hunting players immediately.
5 Best Minecraft Manhunt Servers
If you are looking for a server to play a Minecraft Manhunt server, we've got you covered with a couple of the best choices, in our opinion.
Purple Prison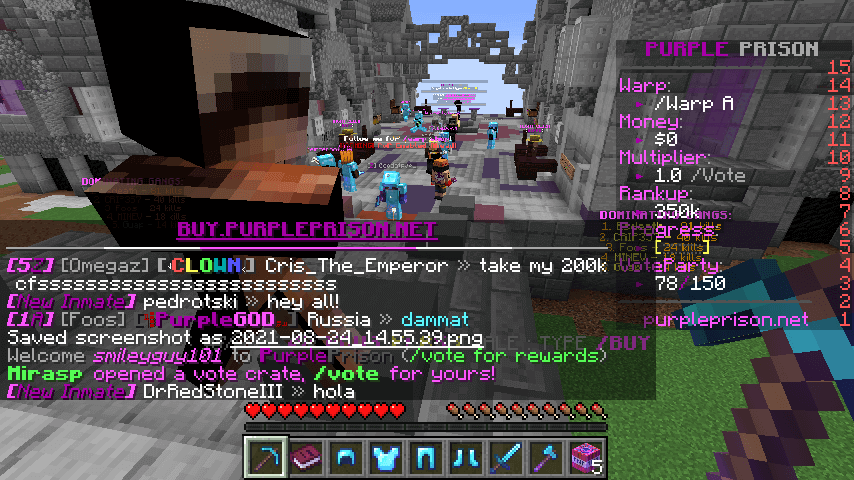 Server IP: purpleprison.org
Website: https://www.purpleprison.co/
Purple Prison happens to be one of the most popular Minecraft prison servers, with Manhunt being one of the games on offer.
Players can join events in a matter of seconds by entering through one of the PvP zones on the server while the event may be running.
This Minecraft server has nearly 1000 players at any one time, so what are you waiting for? Join the world now with your friends and start playing Manhunt.
Enter the action in seconds with their easy-to-join PvP zones
Play alongside thousands of other players on one of the most popular servers around
Supports all Java Edition versions on any Minecraft client
Never miss out on the fun – we're always up and running!
Furthermore, the server supports just about Java Edition Minecraft version. That means you're never left out of the action on this great server!
RelayMC

Server IP: relaymc.net
Website: https://store.relaymc.net/
RelayMC is a relatively newer Minecraft manhunt server, but it is fast becoming the best place to enjoy a few games of Minecraft Manhunt. It is similar to what is played by "Dream", "GeorgeNotFound" and "Tommyinnit", all of whom are very popular YouTubers.
In addition, there is a competitive Manhunt mode, where players are invited to partake in ranked matchmaking, helping them gain skill ratings.
Play Minecraft Manhunt with some of the biggest YouTubers
Competitive mode for ranked matchmaking and skill ratings
Other game modes including minigames and custom events
Free to play with your friends
RelayMC also has other game modes such as minigames as well as custom events. The only thing we didn't like about Relay is that their website goes directly to their store, which gives them the P2W (Pay To Win) vibe, even though they aren't P2W.
You can enjoy everything on this server free with your friends so start playing today.
OneBlock MC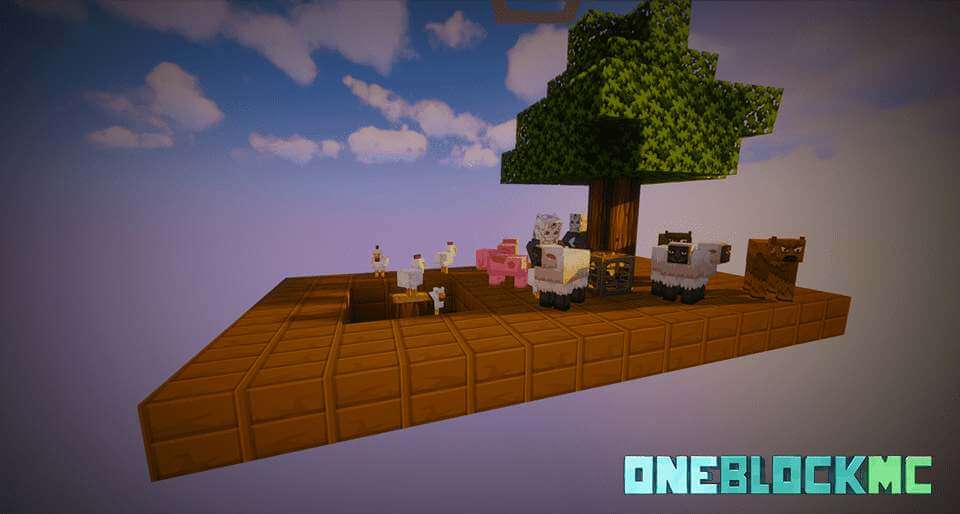 Server IP: play.oneblockmc.com
Website: https://oneblockmc.com/
If you enjoy quickly jumping into a Minecraft Manhunt game, then this server is for you.
Most known for their Skyblock servers, OneBlock other professional Minecraft servers, and game modes for people to play.
Unlike the other servers on our list, it supports crossplay with both Java Edition players and Bedrock players. While OneBlock is located in the US, we have found that there are still members all over the world.
They also have an in-house dev team so that means any server issues are quickly sorted out without any unexpected restarts.
That means there is always plenty of players playing the game on the server.
Supports crossplay with Java Edition and Bedrock players
In-house dev team ensures quick server issue resolutions without unexpected restarts
Always plenty of players playing the game on the server
No special client needed to join, just connect to their server address
Joining this Minecraft Manhunt server also requires no special client to play, just connect to their server address and start playing today.
MCBlockBuilds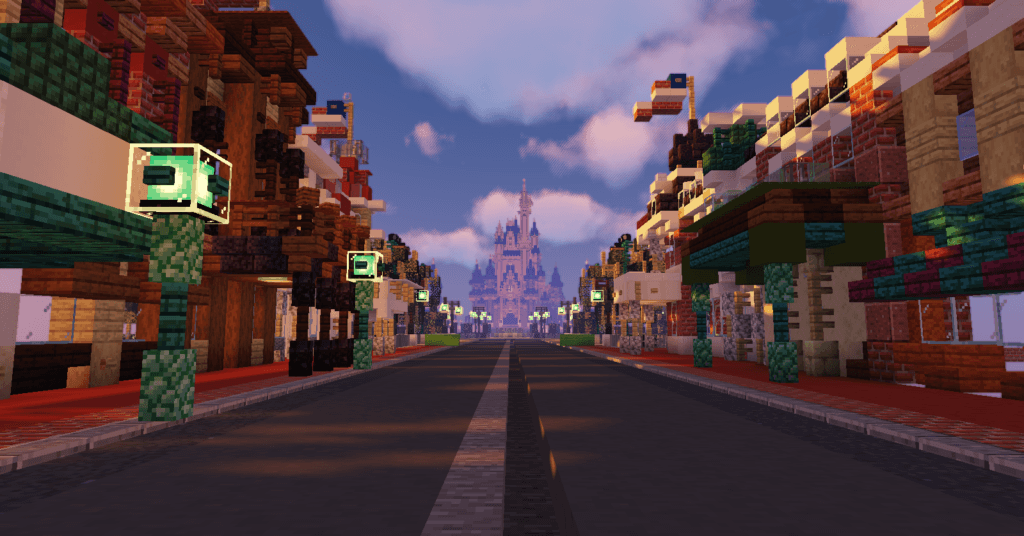 Server IP: mcblockbuilds.net
Website: https://mcblockbuilds.net/
MCBlockBuilds is a newer, smaller server that runs multiple Minecraft servers, each with a different game mode.
Once you join their server, it's super easy to get into the multiplayer match.
Join the queue with the compass in your hot bar, and once your group is warped into the game, 1 player will be chosen as the Speedrunner. You must gather items and tools, and if you're a Hunter, you must kill the Speedrunner.
It has a long list of new weapons and offers players an excellent way to spice things up, especially those who enjoy the genre.
No lag - Play without any interruptions
Multiple game modes - Change up your gameplay
New weapons and items - Get equipped for the hunt
Easy to join queue system - Join and get started quickly
Have fun being the hunters without any lag or plugins needed.
MC Manhunt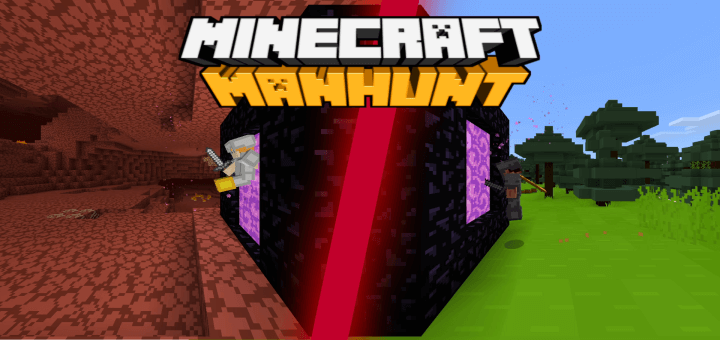 IP: play.mcmanhunt.com
Website: https://store.mcmanhunt.com/
MC Manhunt is a no-nonsense server with fast-paced gaming and lots of fun for everyone type approach.
The server keeps things clean, which is perhaps why they have the most Manhunt players compared to any other Minecraft servers listed above.
What I don't like about MCManhunt is that again, their website is very basic so there isn't much sense of community until you go into their Discord server.
They don't have the numbers of a big Youtube server as seen above, but there is still over 200 players on at any one time.
No-nonsense server for fast-paced gaming
Keeps things clean and players focused on the game
Over 200 players on at any one time
Quickly hop into the Manhunt game mode
This Manhunt server also doesn't have other game modes like Skyblock or Minecraft survival.
If anything, the ability to quickly hop into the Manhunt game mode is why many opt to play here. Trust us when we tell you MC Manhunt will make many purists very happy.
What Is A Minecraft Manhunt Server?
Now Minecraft Manhunt is a fast-paced game initially popularized by the highly influential gaming YouTuber called "Dream."
The beauty of Minecraft Manhunt is that there are various ways in which it can be played. The most popular usually involves 3 hunters, tracking down and then killing the singular "survivor."
The survivor is also a player and not an NPC, so the objective is to survive for a certain period of time or try to complete the game. Kind of like a Hardcore server meets a Survival server.
While Minecraft Manhunt servers are, it is also a game that's best enjoyed when played with others. Players can quickly jump into a game with other players choosing to play as the survivor or the hunter.
Conclusion
Manhunt is a great addition to any Minecraft server network. Their dedicated players are always fun to play with no matter if you're the hunter trying to kill the survivor, or if you're trying to hide from the hunters using your aim and skill.
If you see a server that you're interested in that we didn't cover, then let us know in the comments below and we will get it added to our list.