Minecraft is a popular game with about 500 million players and a decade-long track record of producing a high level of satisfaction to gamers. However, there have been various rumors about the Minecraft game and when is Minecraft shutting down.
When Is Minecraft Shutting Down?
Many people in the Minecraft community have asked when is it shutting down? The answer is most likely, Never.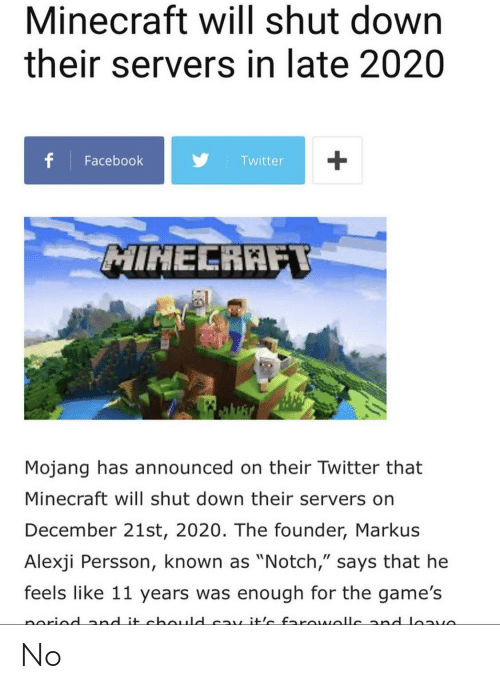 However various pranks have emerged in the gaming world to make it seem as though Minecraft is about to shut down. The most popular prank was from a social media mockup site called channel45news.com which was spreading the rumors that Minecraft would shut down its servers on December 21st, 2020. It took Helen Zbihlyj (HelenAngel) texting on Twitter that both Minecraft and Mojang are not stopping to reduce the rumors.
The full post said:
"Mojang has announced on their Twitter that Minecraft will shut down their servers on December 21st, 2020. The founder, Markus Alexji Persson, known as "Notch," says that he feels like 11 years was enough for the game's period and it should say it's farewells and leave the stores when the end of 2020 hits, according to his interview.

Minecraft became a smash hit and took over Fortnite in half a month in popularity. It has been gaining more and more players the more days that passed on, and when the clock strikes midnight and when the day reaches the 21st of December of 2020, the game will say its goodbyes and thank them for the memories they gave and received for more than a decade."
Minecraft continues its operation both in 2021 and beyond. You still get to enjoy the stimulating and highly creative game even with your friends from the comfort of your home. The operations remain seamless and reliable.
However, there is one part of Minecraft that was shut down on June 30th, 2021 which is Minecraft Earth.
What Is Minecraft Earth?
Minecraft Earth brought aspects of the Minecraft game to the real world. It was a mobile AR spin-off game that was launched in October 2019. Since that time, it has attempted to gain more audience to no avail. The launching of Minecraft Earth was chaotic and confusing which had various foundational issues. The issues include gatekeeping timers, aggressive microtransactions, and others.
Minecraft sought a way to use Minecraft earth to craft and build more while still considering that people needed to stay safe. Between January 5th to June 2021, various adjustments were made for the short-lived Minecraft earth. They include:
Eradicating transactions involving money
Reducing ruby costs drastically
Adding all unreleased and completed content to the pipeline
Minimizing the time requirements for smelting and crafting
Replacing smelting and crafting boosts with radius boost of a similar level
Provided character creator items for players who signed within the timeframe
When Was Minecraft Earth Shut Down?
On the 1st of July, Minecraft Earth was no longer developed and all the data relating to Minecraft Earth data that has nothing to do with Minecoin entitlements and character creator were deleted. It was removed from all app stores and it ceased to be functional for those players that were still leveraging the party gifts that Minecraft Earth was giving out.
Mojang studios addressed the flaws of the game towards the time of closing especially by demonetizing the game. However, their efforts came late which made the ruined mobile experiment shut down completely.
How Does Shutting Down Minecraft Earth Affect The Entire Game?
Minecraft Earth generated little money and got a limited audience due to its numerous flaws. However, shutting down Minecraft Earth does not affect Minecraft's core games in any way.
Minecraft dungeons and Minecraft remain solid while constantly producing relevant updates for their faithful fanbase. You can still find these remaining games as one of the best Xbox games you would come across and you can even enjoy them on your mobile device by playing the mobile version or by simply using Xbox Cloud Gaming.
What Happens To The Purchases On Minecraft Earth
Those who have paid ruby balances would have their purchase changed to Minecoins which would help them on the Minecraft Marketplace. These Minecoins would enable them to buy texture packs, skin, maps, and even minigames.
In cases where you've already purchased Minecraft Earth, it would be replaced with a free version of Minecraft (the block version) where you can get a fresh start while also getting goodies from the marketplace.
Will There Be Minecraft 2?
Minecraft 2 was never released and it might never be. Although Mojang had been working on the game for over 10 years trying to bring blocky simulation games to a higher level. As of 2013, it was looking like Minecraft 2 would be released.
The Minecraft leaders believe that the community should not be fractured by the release of Minecraft 2. Instead of Minecraft 2, it was Minecraft Dungeons that got released.
Dungeons are slightly different from the original Minecraft game because you don't have to craft anything. Minecraft dungeon is simply an adventure game that has a story attached to it. With Dungeons, the community can remain together.
However, getting a Minecraft 2 would require players to move from Minecraft 1, which would mean splitting up the community. Microsoft settled for an expansion of the Minecraft game itself rather than creating a new iteration.
Final Thoughts
So now you know that Minecraft isn't shutting down. The Minecraft game is an interesting game that still finds its way to the heart of many players.
Although Microsoft paid $2.5 million for Minecraft in 2014, the game has grown remarkably since then.
Little wonder, it is the second highest-selling game after "Tetris" which offers you a thrilling experience.