If you are looking to host game servers with your friends or for your gaming community, then there are two main problems that need to be addressed.
First, you want game server hosting that has the stability and speed required to run your game server smoothly.
Second, you don't want to spend an arm and leg on a server that won't perform.
Let's face it, the last thing you want is everyone complaining that they are lagging and their shots aren't hitting. No one will play on that server and they will never come back, resulting in a dead server.
This is where we step in
Over the last 20 years of hosting game servers for internet and LAN parties, we know what to look for in a good server.

In fact, we run one of the most popular CSGO servers in the world right now so we know what we are talking about.
So let's take a dive in and take a look at our list for the top 10 best game server hosting providers.
PS. If you're looking to start your own game server host, we have a guide that you can read here.
10 Best Game Server Hosting Companies
Ok, it's time to get a little into game servers.
There are many different hosting companies out there that offer them various price points and features.
But how can you know which is the best?
Well if we were talking about websites for running games what would be so hard about finding one with stable uptime each month?
What exactly do your go-to sites need when they're looking at game server hosts - stability!
So before choosing any particular host make sure you read reviews from actual server owners (like us) who may have encountered some problems during their own run of developing a successful online gaming community using said, service provider.
Let's look at the 10 best game server hosts.
Streamline Servers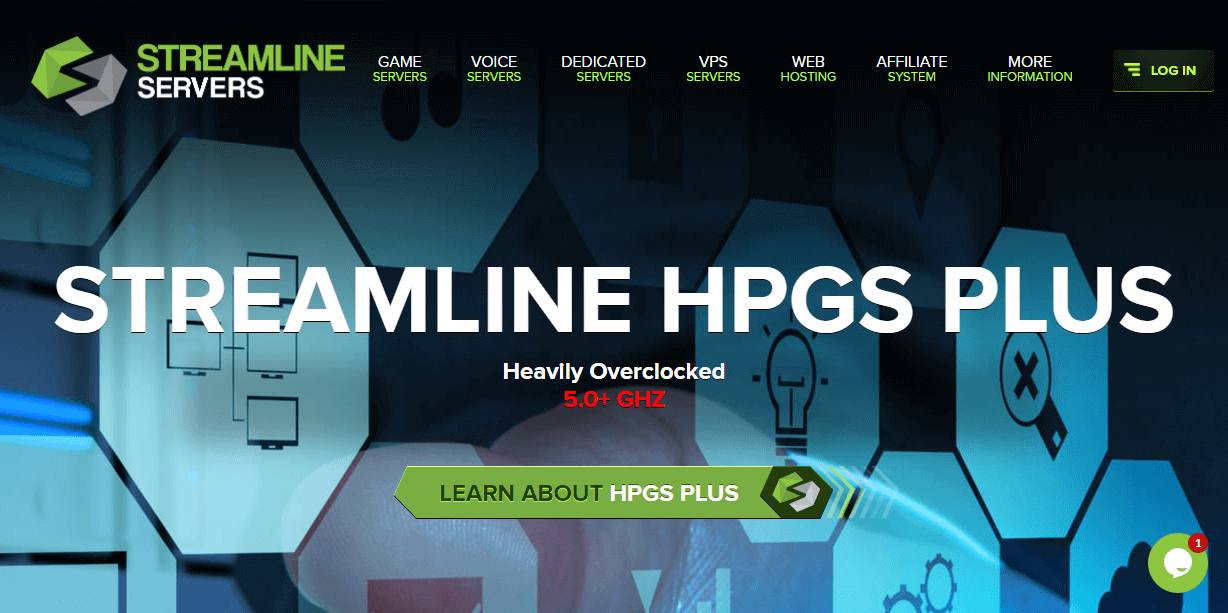 Streamline Servers are the go-to hosting company for any serious gamer who wants to save time and focus on what's really important – getting players!
Streamline offers a wide variety of packages that have your favorite game and mods preinstalled, so you can use all your gaming energy where it matters.
Their game server hosting packages start at $2 per month, but they have a better discount of 20% for game server admins who want to stay with them longer than 1 year.
You can order game server customizations such as extra slots and subdomains from streamline's website if needed using their easy ordering system and get those added onto your current running game servers so it works as an all-in-one package.
Pros & Cons
Pros
Streamline Servers are the best hosting company for any serious gamer,
You get a wide variety of fully-loaded gaming packages to choose from,
They have a discount if you're more than 1 year invested in your service,
Get subdomains and extra slots included on their website,
Servers located all around the world.
Cons
Limited automation for notifications (e.g. bandwidth running out)
Dated (But reliable) game dashboard
Streamline also has excellent customer support agents ready to answer game server hosting support requests whenever you need game server help.
You can read our full Streamline Servers review here.
Shockbyte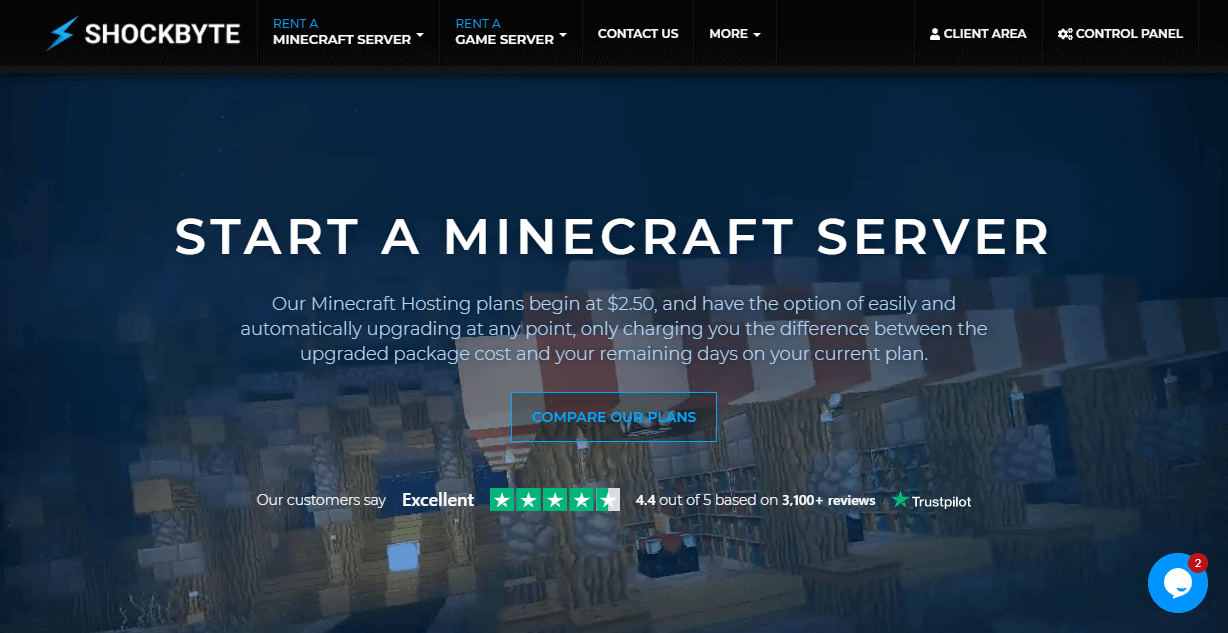 Shockbyte game servers are known to be one of the best server providers on earth, and their excellent technical support is part of that reputation.
Their customized packages come with all sorts of features for those who want them--from mod packs so you don't need to download mods manually as well as other cool perks like event calendars or stats programs!
Their game server hosting packages start at $2.50 per month for a Minecraft game server which is very affordable, but you have to pay for a dedicated IP or server location separately.
The game servers feature stats tracking and game server uptime monitoring as well as website uptime monitoring too.
Pros & Cons
Pros
Cheap, affordable server packages,
Quality customer service,
Customized game servers with features of your choosing,
Excellent track record as one of the best providers,
Dedicated DDOS protection.
Cons
You are expected to perform your own server backups. If something goes wrong, it's all on you,
Asia Pacific regions are more expensive,
Dedicated IP is only available through support tickets.
You can contact Shockbyte game server support via email or ticket system for game server help if you need any game server issues from other game developers answered quickly because they have excellent game server support agents who know what is going on instantly in the background with your game servers and they will be able to provide help right away if it's something they've seen before and stumble upon often.
Host Havoc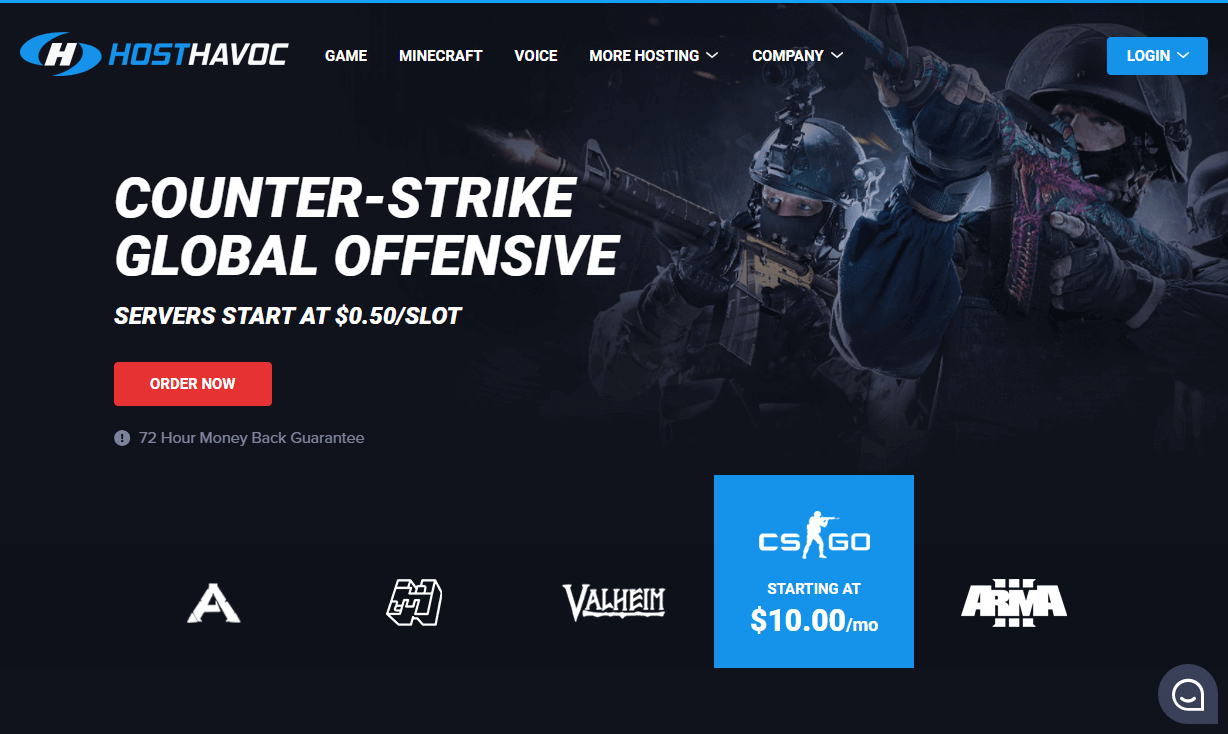 Host Havoc is a global company headquartered in Ottawa, Canada. With highly experienced professionals located across the globe to maintain their tried-and-true 24/7 support operation and provide reliable service with lightning speed for all of your hosting needs.
Host Havoc was founded in 2013 as an ambitious startup looking to bring people around the world great web services at affordable rates--with unparalleled customer care that never sleeps!
They're proud Canadians who are always striving for excellence both on and offline; they work hard every day so you can have peace of mind knowing Host Havoc will be there when needed most - whether it's 2 am or 10 pm (Pacific Standard Time).
Pros & Cons
Pros
Emergency support for your every need,
Highly experienced customer service staff to serve you all day, every day,
World-class hardware and software infrastructure for ultimate performance,
Super affordable rates with no hidden fees or discounts.
Cons
Less reliable (But newer) control panel.
Host Havoc is the best provider for game servers, with their semi-managed support. If you need help during a live gaming session or if your server goes down and needs rebooting, it's just one click away!
Game Server Kings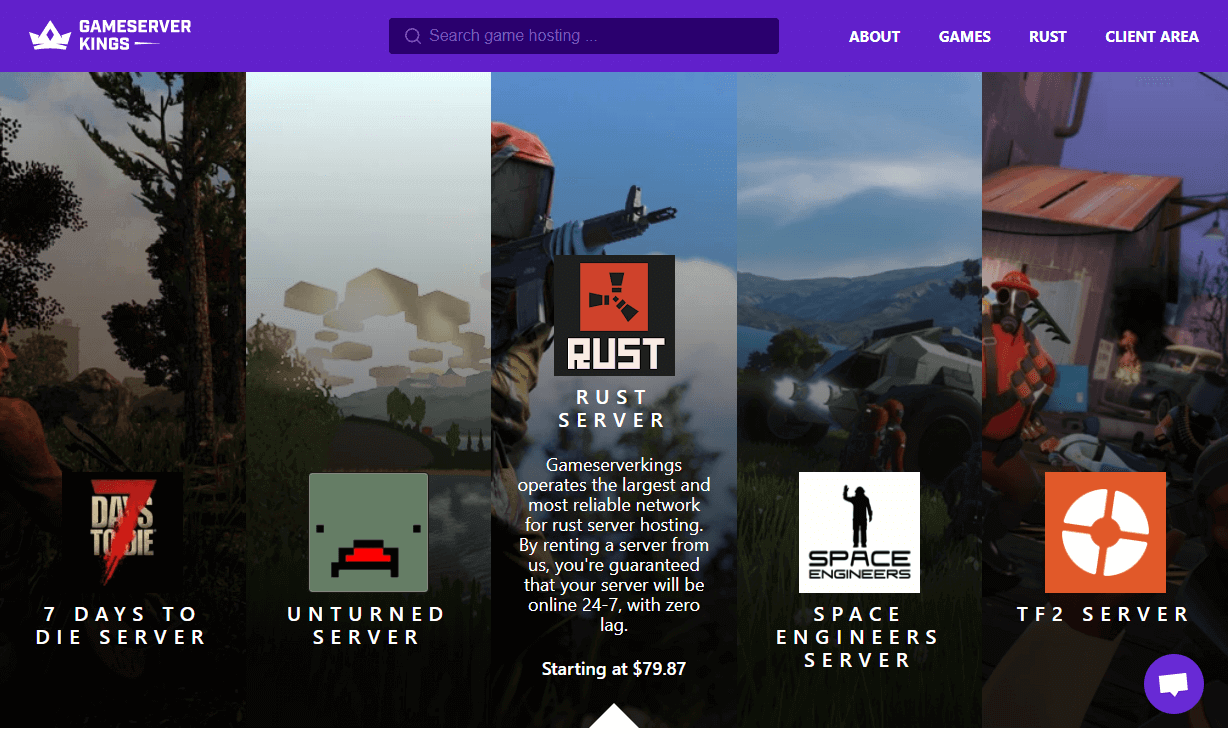 What is your gaming passion? Do you enjoy playing games or do you prefer to host them for others to play on their computers and consoles?
Game Server Kings was created by gamers, it provides a personalized experience with industry-best prices all while providing the best customer service around.
They can host and game servers for game developers who have a game server hosting needs that either want to create game mods or just host game servers that are mod free so clients don't need to worry about game mods messing up their game saves for game developers with game mods already installed.
Their game server hosting packages start at $5 per game server, but they do offer a smaller package if you only need a few game slots.
Pros & Cons
Pros
World-class customer support,
Industry-best prices,
That personal gamer experience,
A wide selection of products for gamers.
Cons
Only 24-hour money back guarantee
Game Server Kings also has excellent customer service support agents ready to answer your game server hosting support requests whenever you need help with any kind of issue.
And due to their outstanding dedication towards satisfying customers, Game Server Kings was selected by a very reputable business source.
OVH Cloud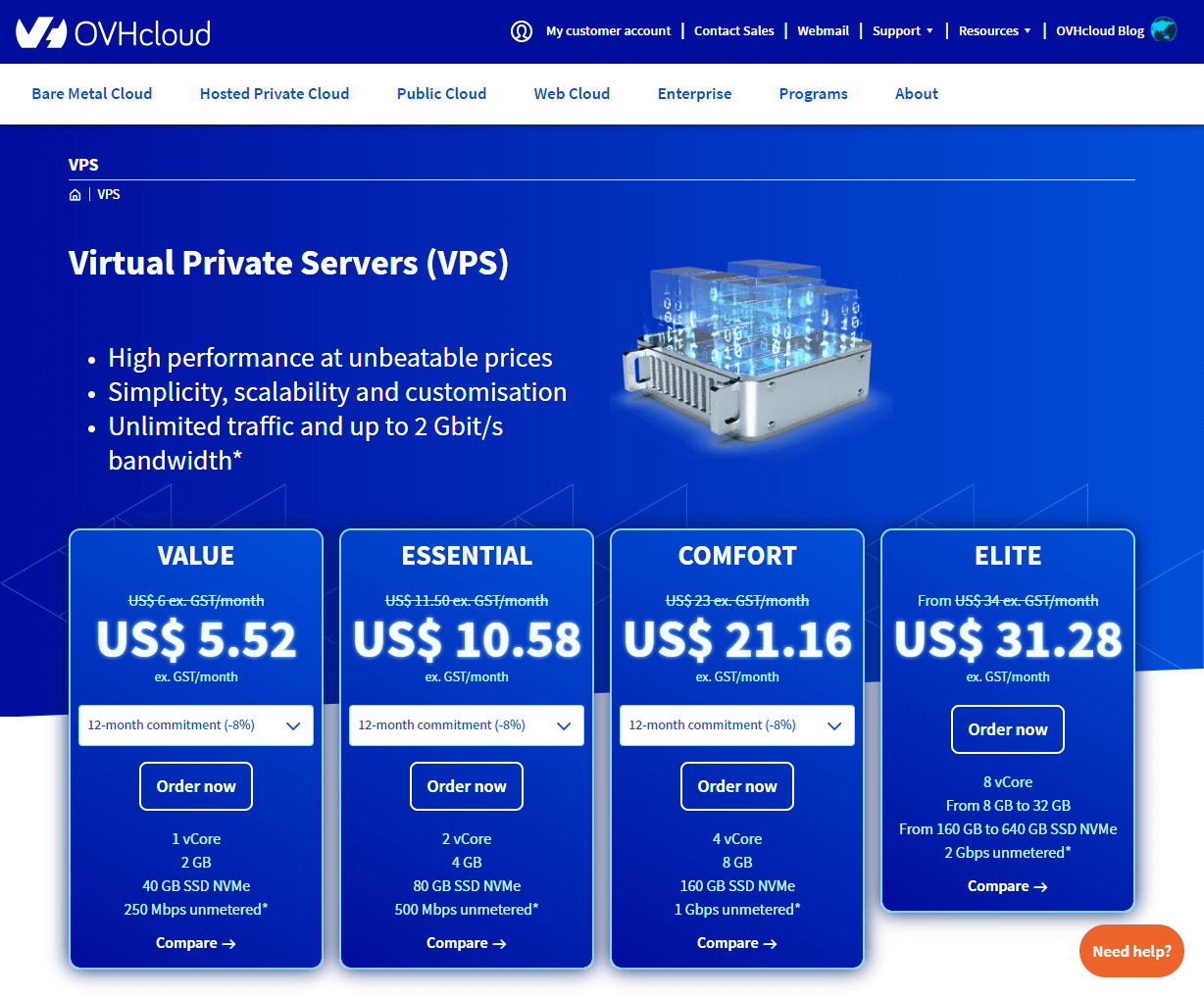 If you need to take hosting game servers to the next level, you need to check out OVH.
OVH is one of the leading providers of servers in the world. Their game servers are available on 27 data centers located throughout North America, Europe, and Asia.
OVH has a great service, which is an excellent alternative to traditional hosting. However, it's important for you to be proactive and self-sufficient when using this platform because sometimes things go wrong that can't be easily fixed by other people in the company.
Dedicated game server prices start at $96 per month. But keep in mind, a system like this you can run multiple games on at the same time. OVH dedicated servers are a great solution for people who need to run multiple games on the same hosting server.
You also get full KVM access to the dedicated server so you can edit the boost clock in the bios settings, change boot order and even install another operating system with ease.
OVH is more suited for advanced users as there is nothing about this platform that is beginner-friendly. Even when it comes to support, you are usually on your own unless you can wait 24 hours between replies from their customer service.
Pros
27 Data Centers in North America, Europe, and Asia
Dedicated Game Servers start at $96 per month
Full control over the dedicated server as well as free KVM
Cons
The backend client area is slow
Better suited for advanced users who know what they are doing
Support is slow (24 hour reply times) unless you call them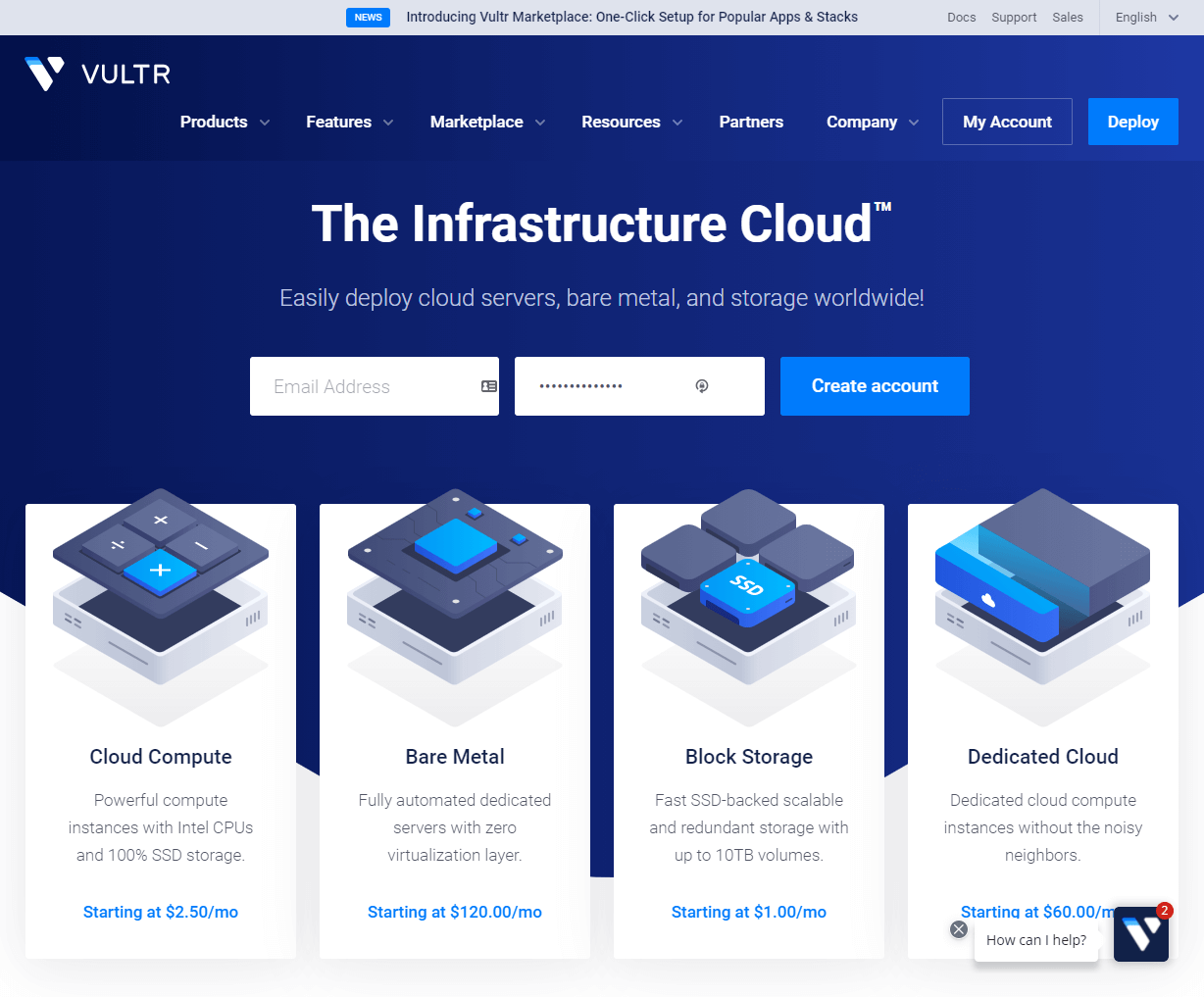 If you're looking for a cheaper option than OVH, Vultr is the way to go. Their pricing starts at just $5 per month and doesn't require any commitment on your part. Simply rent a server when need be with no long-term obligation!
With a Vultr VPS, you can get ultra-low latency in games such as CSGO and this makes them perfect for competitive games.
The power of Vultr's game server hosting solutions allows you to deploy high-quality game servers with a single click. After clicking, they will orchestrate the Vultr cloud platform and allocate your instances over different data centers in order for gamers to experience lower latency while playing on their optimized network.
Pros & Cons
Pros
All-inclusive pricing,
Ultra-low latency in games such as CSGO,
Deploy high-quality game servers with a single click.
Cons
Monthly bandwidth quote limit
You can customize any games that are available without worrying about managing complicated setups thanks to them!
Vultr is a server hosting company that supplies fast, reliable servers. They offer enterprise-grade hardware and the latest generation Intel CPUs to ensure 100% SLA with their customers.
Vultr offers simple control panel software for management which comes complete with a clean dashboard and robust API so you can manage everything easily.
The ability to connect your apps through isolated private networks, facilitating IPv6 network access as well as providing dedicated IPs per VM are just some of the features offered by this service provider; adding on top of these features an option to choose custom ISO images makes it all seem even better!
Nodecraft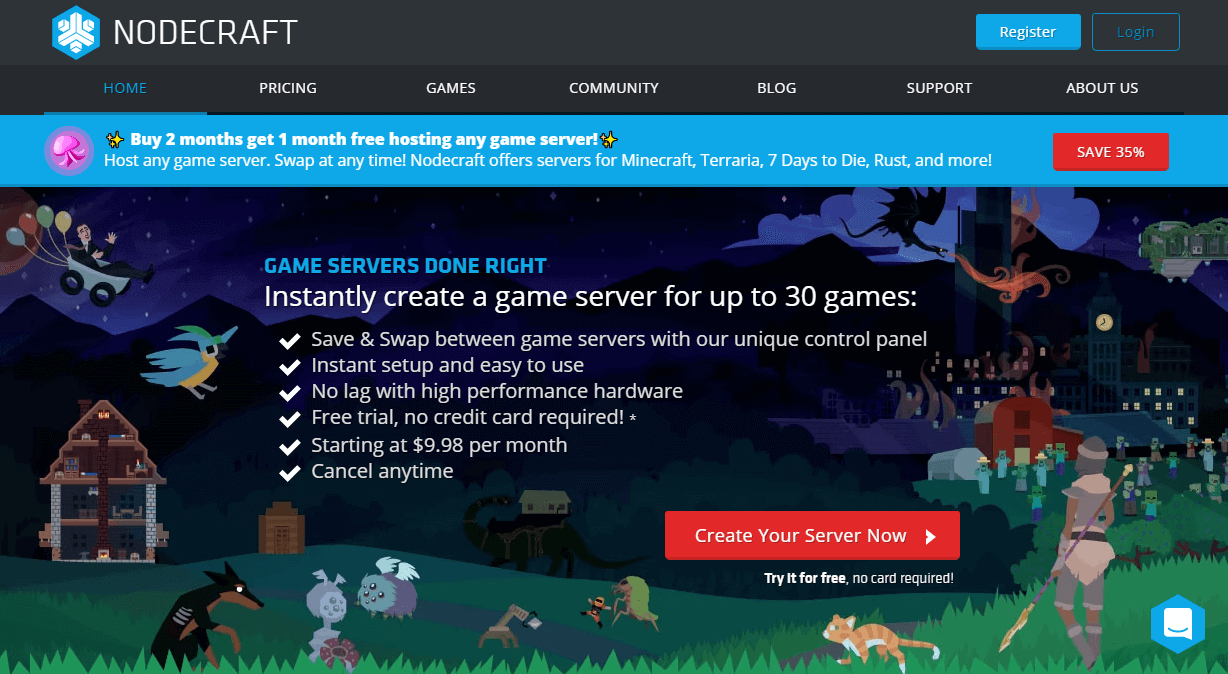 Nodecraft game server hosting is one of the game servers that allows you to choose from a range of game genres. They offer game server hosting for Minecraft, Garry's Mod, Rust, and many PC games on the platform of your choice.
Nodecraft has a custom data center and an impressive list of staff support workers, so there's never any downtime. With prices starting at $10 for 2GB of Ram and 10 GB of SSD + 20 extra GBs in snapshot storage, you might think this is quite heavy on the wallet - but with these guys being so efficient when it comes to their servers running your game smoothly without interruption from now-and even future issues that will inevitably arise, we can't recommend them enough!
Pros & Cons
Pros
A broad range of game server hosting options,
Dedicated staff to give you the customer best experience,
Plenty of plans for a variety of budgets,
Datacenter up and running 24/7, 365 days a year.
Cons
Only 1-day free trial,
Server capacity issues for some customers.
Nodecraft is an online game hosting company that has been making games easy to enjoy and play with their simple, yet robust control panel.
With NodePanel 2, you can customize your own personalized gaming experience by tweaking settings like backups or FTP login ease for any of the supported games on Nodecraft's platform. The best part about all this? It only takes a few clicks!
Nodecraft is a well-versed game hosting provider with the latest server hardware and an in-house customer support team. You can't go wrong when you choose Nodecraft.
Apex Hosting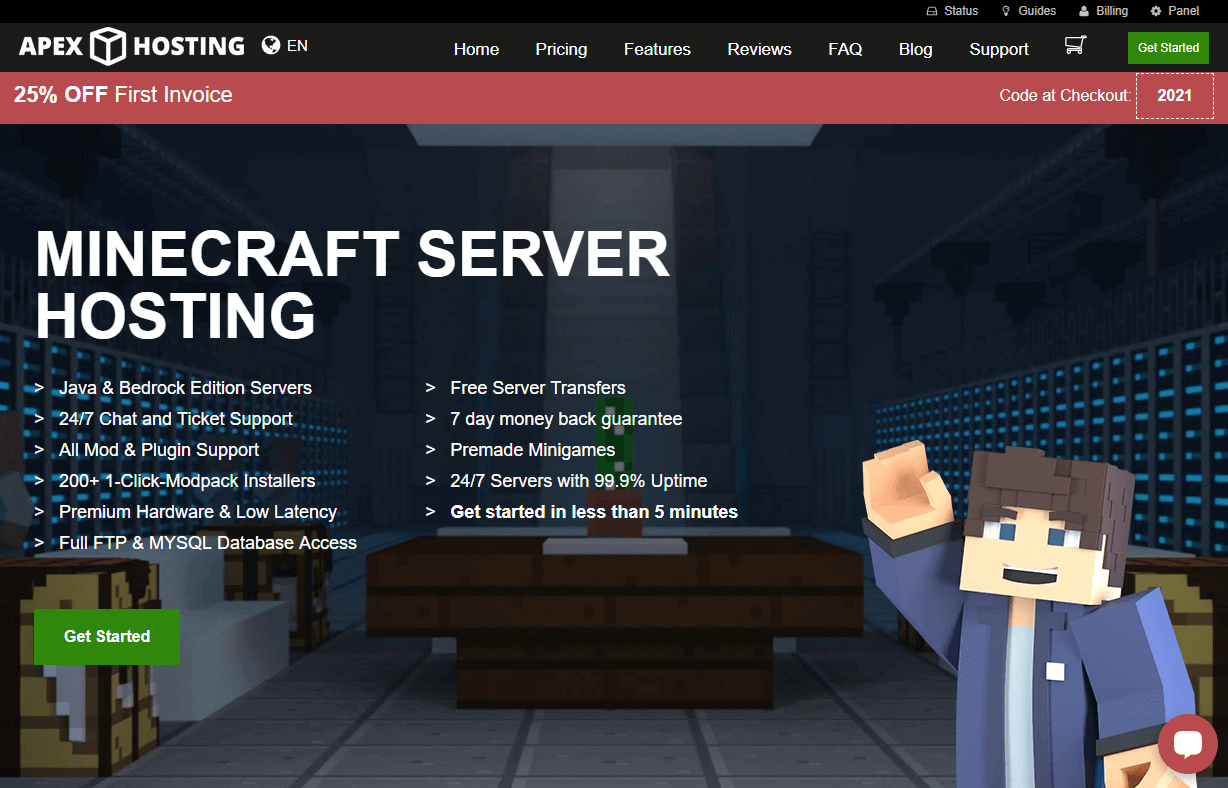 Apex game servers are the fastest game servers you can get online. Their game servers come with many features, and they can be utilized for a wide array of games.
Apex game server hosting is perfect if you're looking to host game servers that require Uptime, High-speed Internet Connection (More than 100Mb/s), and RAM(16GB+).
Apex Hosting offers a low-priced solution to hosting Minecraft servers, but their rates are still higher than those of other server hosts.
Apex is the only company we know that lets you manage your site in real-time through the Multicraft tool on any budget and while there might be cheaper options for playing Minecraft online, if all you want is a bit more power or upgraded features without having to spend too much money then this host could serve as an attractive option.
Pros & Cons
Pros
Gaming servers are fast and powerful,
Highly customizable for your needs,
Provides a low-priced solution to running Minecraft servers,
The only company that still lets you manage your site in real-time.
Cons
Poor customer service for payment disputes.
APEX Hosting has different pricing plans for its basic services. The Basic service plan is only $4.49 USD per month and offers access to all of the company's standard features with no limitations on disk space or bandwidth usage at any time during your one-year subscription period.
This price also does not include access to modpacks like custom website builders that are available as add-ons in other hosting packages from APEX Hosting, but it includes many additional benefits such as mods/plugins support and a 24x7 customer care center included free of charge!
ScalaCube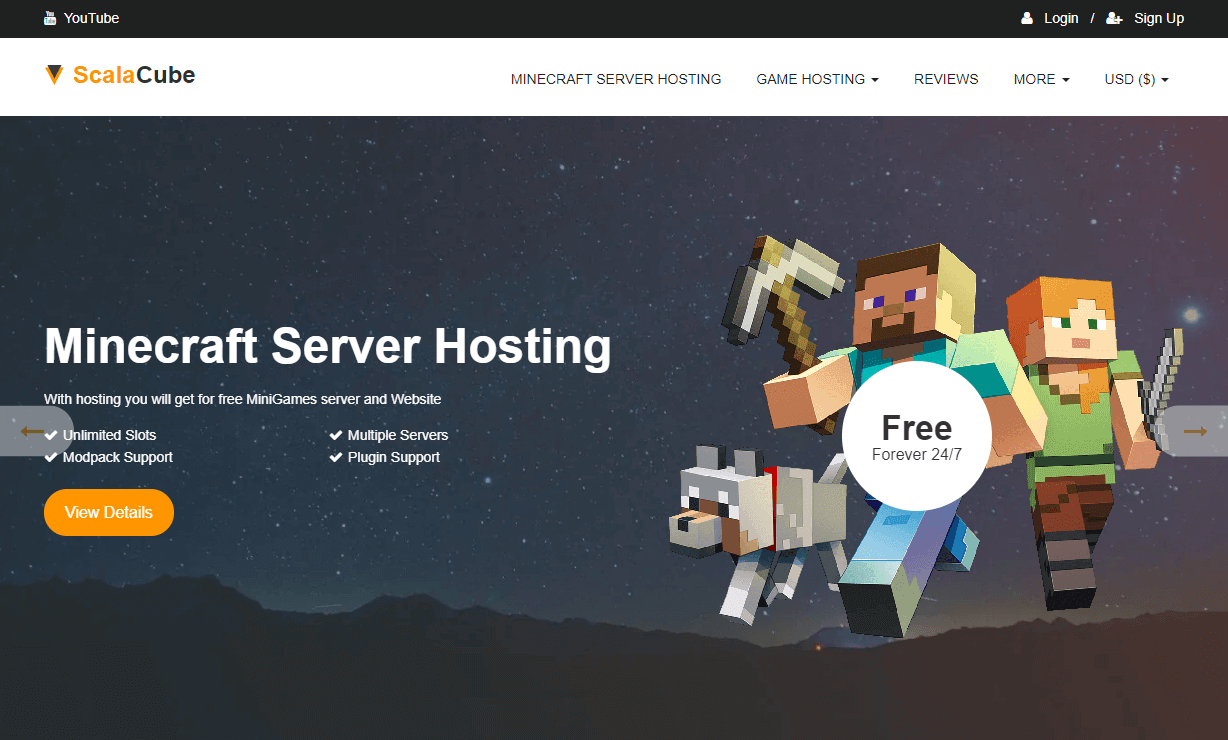 The company ScalaCube is best suited for hosting Minecraft or Ark: Survival Evolved servers. When it comes to other server services, there are many that do better than them; but they're still a great choice if you want these specific games hosted on their side.
The team at ScalaCube offers the perfect environment for running well-known video game titles such as Minecraft and Ark: Survival Evolved without causing any lag due to overcrowding of players in one area of gameplay space during peak hours, which can be an issue with some competing providers offering lower-cost plans.
Pros & Cons
Pros
Get your server hosted in minutes,
The power of a Dedicated Server,
Unlimited technical support,
Curated game selection.
Cons
Features are very niche to Minecraft.
ScalaCube is one of the top game hosting providers currently, with a reputation for being an excellent host for Ark: Survival Evolved servers. We ran tests to see how they fared on both Minecraft and Ark hosts and found that ScalaCube was more than adequate in terms of gameplay as well as performance during our testing period.
They've become increasingly popular when it comes to providing server space for ARK games specifically with their list becoming longer by the day compared to other services who are also starting up catering solely towards this specific genre now too, but not quite enough yet so we think Scala Cube could be your best bet if you're looking into getting involved in ARK gaming!
PebbleHost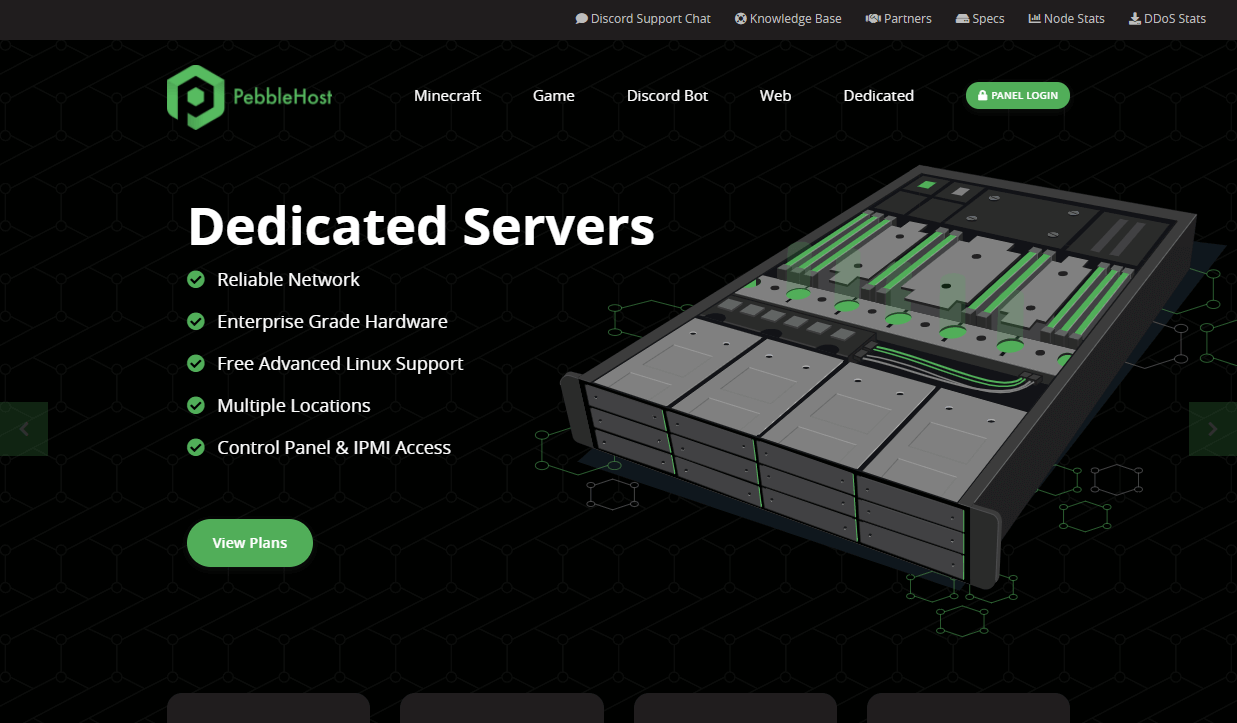 Pebblehost has been a noticeable player in the already crowded game and voice hosting industry, but they have still managed to set themselves apart. Their servers are available for use by users from countries worldwide at an affordable price.
Pebblehost is a company that promises an efficient, smooth, and reliable gaming experience at affordable service costs. The gaming industry has evolved since the early 2000s, so what they offer with unmetered storage certainly appeals to modern gamers who need more RAM capacity than CPU power!
Pros & Cons
Huge range of server locations for your convenience,
Highly experienced staff to help you 24/7,
Affordable costs that are sure to save your wallet and time.
Cons
Long support waiting times,
Hard to cancel an account.
PebbleHost's easy-to-use console and powerful features make it a fantastic choice for hosting your server. You can easily set up, start, restart or even stop servers from the comfort of your own home! The console also allows you to run other simple commands like track usage manages plugins and enjoy full FTP access with ease.
When looking for a low-cost hosting provider, it is hard to beat the prices and perks that Pebblehost offers.
You can enjoy fantastic server hardware at any location of your choosing as well as an expert customer support team on hand 24/7 to help you out if something goes wrong with your account or website.
What to look for when looking for game server hosting
When purchasing game server hosting there are also some other factors to consider: cheap prices (which is important because if you pay more per month then you end up having very small profit margins), security, how good of a reputation they have, and their customer support service which is especially important for troubleshooting game issues as well as patching your server software.
Customer Support
The customer support service is something you should pay attention to when searching for game server hosting.
Their hours of operation should be 24/7 and all the game servers in their game server hosting packages must be covered by a game server hosting client area where you can purchase game server hosting time, renew game server hosting accounts or even manage game server plugins and other modifications from inside your account area at any time.
You might also want to look into how long they have been around in business if you are looking for a reputable company that will not disappear on you after 30 days with no product delivered unless it is stated openly beforehand.
This is one of the cases where, if they have been around for a few months, then it is best to stay away.
It's always good to talk with some of their existing clients before making the final decision as well.
Server Quality
The game server hosting packages you choose must be with the best game servers available. You want game servers that will not go offline unless there is an emergency and they are being patched often to ensure maximum security, uptime, and gameplay quality.
The game servers should also have no more than a minimal of game servers installed so your players can enjoy a clean game experience every time they connect to the game server from anywhere in the world.
Some game server hosts are known to oversell their servers, unfortunately, there is no way to tell if this is the case until after you have paid. With that said, some game server hosts will be happy to transfer you to another, less congested server if this is the case.
Game servers tend to cause technical issues so it's better to avoid them for now as you focus on other aspects of running your own games such as creating popular game websites or advertising for your new game server on social media sites or even TV ads if possible.
But if you do wish to game mod your game servers a game server hosting company can also provide some game mods for game servers that you can choose and install yourself or with the help of their customer support service.
Price
The monthly price is important because it determines how profitable your game will be in the long run.
The game server hosting packages must have affordable prices so you are able to pay for them every month without having constant financial issues and worrying too much about where to get money from next, because if you do then you won't be able to focus on marketing your games properly which means no new game players or even low traffic coming to your sites.
You want your game servers hosted somewhere that has cheap prices but don't be fooled by the game server hosting that has a lot of game servers for a very low price.
The game servers might be being shared between other game communities and game servers could suddenly go offline without warning which is not the best thing to happen when you need game servers online all the time during your game promotion periods.
Features
The game servers you choose must also have features such as stats tracking, website uptime monitoring, and last but not least they should have a fast game server hosting support via email or ticket system.
You don't want too many emails coming in from frustrated players who cannot connect to your game server because it is down again, and if you are using cheap game mods you also won't want to have a game server hosting support messages blaming you for game server errors that are related to game mods themselves.
Conclusion
If you're looking for a solution that will do it all and save you money, Streamline Servers is one of the best options. We personally know of a few communities that use Streamline and they are in the top 10 CSGO servers in the world!
Alternatively, OVH has some great prices on their servers as well but they are geared more towards businesses with multiple servers rather than someone who just needs a single hosting package.
If you want that full control self-hosting a game server has to offer, but don't want to spend lots of money, Then Vultr is our pick for the best game server hosting.