You just saw the sweet new weapon skins in the Valorant store and you just had to have them.
So what do you do?
You take your mom's credit card and go on a weapon skins spending spree.
Spectrum, Sentinels Of Light, and Sakura skins were all purchased!
Congrats you're now a pro Valo player.
However, the next day reality hits and your mom is demanding a cash refund for everything you just bought.
Not to worry, Riot games has a decent refund policy so you can refund your unused VP and unused skins in Valorant.
What Is Eligible For A Refund In Valo?
If you're wondering if you can get a refund on an item you purchased in Valorant, the answer is that it depends if your Valorant skins or VP (Valorant Points) have been used or not.
Only unused in-game content and unused VP (Valorant Points) purchased within the last 14 days are eligible for a refund.
In-game content counts as used once it's taken into a game: that means you've reached the loading screen of a match in any mode (including custom games or practice) with that content equipped.
If you've been using an item you purchased and then decide you don't want it anymore, you won't be able to get a refund as it is non-refundable at this stage.
However, if you purchase an item and then change your mind before using it, you can request a refund within 14 days and get your money back.
So if you're thinking about buying weapon skins in Valorant, make sure you're sure about it before taking the plunge!
What Cant You Refund?
Besides weapon skins and VP, there are quite a few things that are not eligible for a refund.
These include:
Character contract levels
Premium battle pass
Premium battle pass levels
Weapon skin levels
Radianite points
Bundles
Once you log in to your account it's very clear in your order history what you can refund or not. If there is no refund button then you cant refund it.
How To Get A Refund In Valorant
Getting cash refunds from Valorant is pretty straightforward and is as simple as going to the Riot games support website. Here is how you can refund skins in Valorant.
Total Time 5 minutes
1. Open the Valorant support website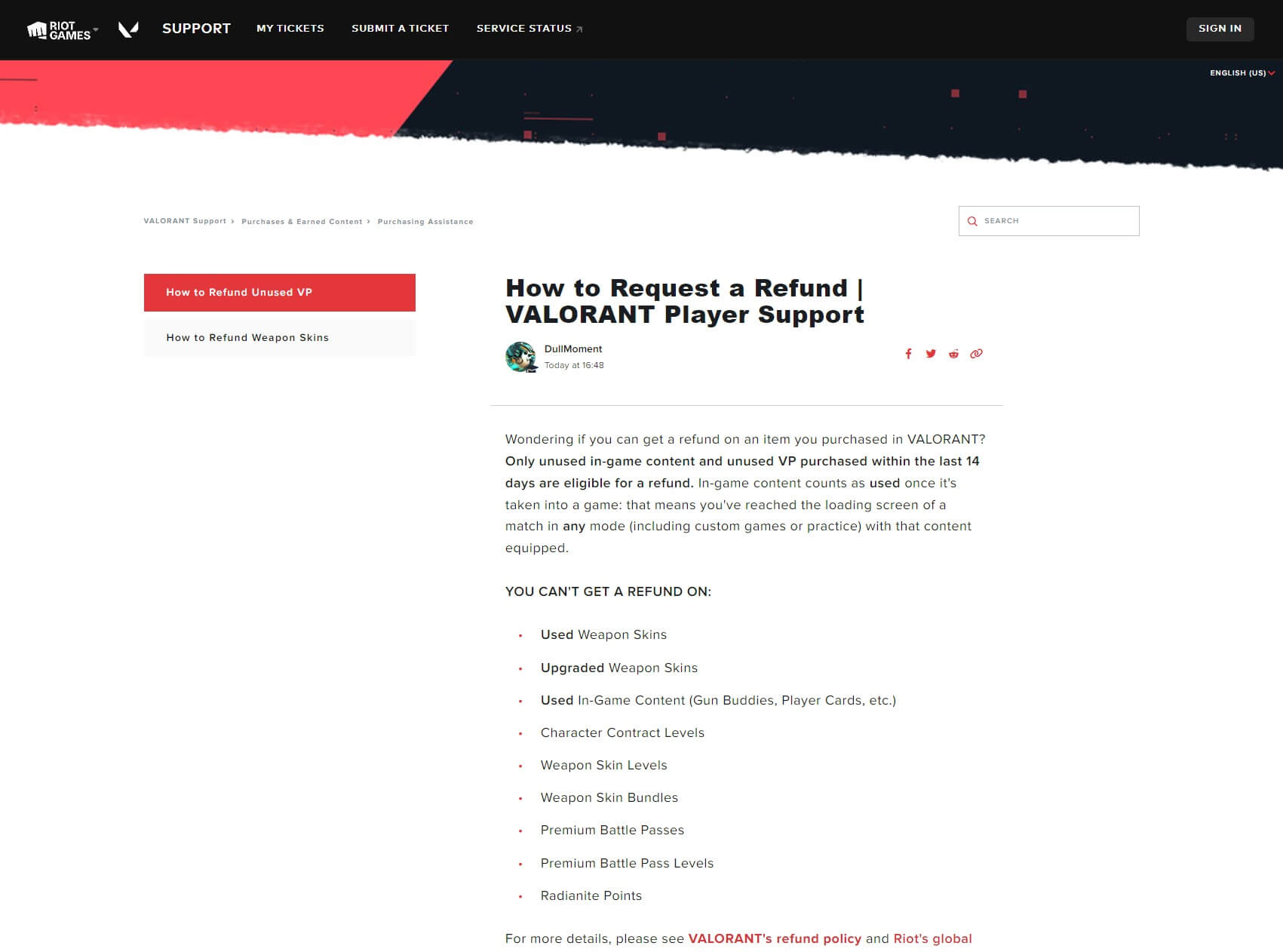 Simply click here to visit the Riot games website for Valorant support and log in.
2. Click "Get My Order History"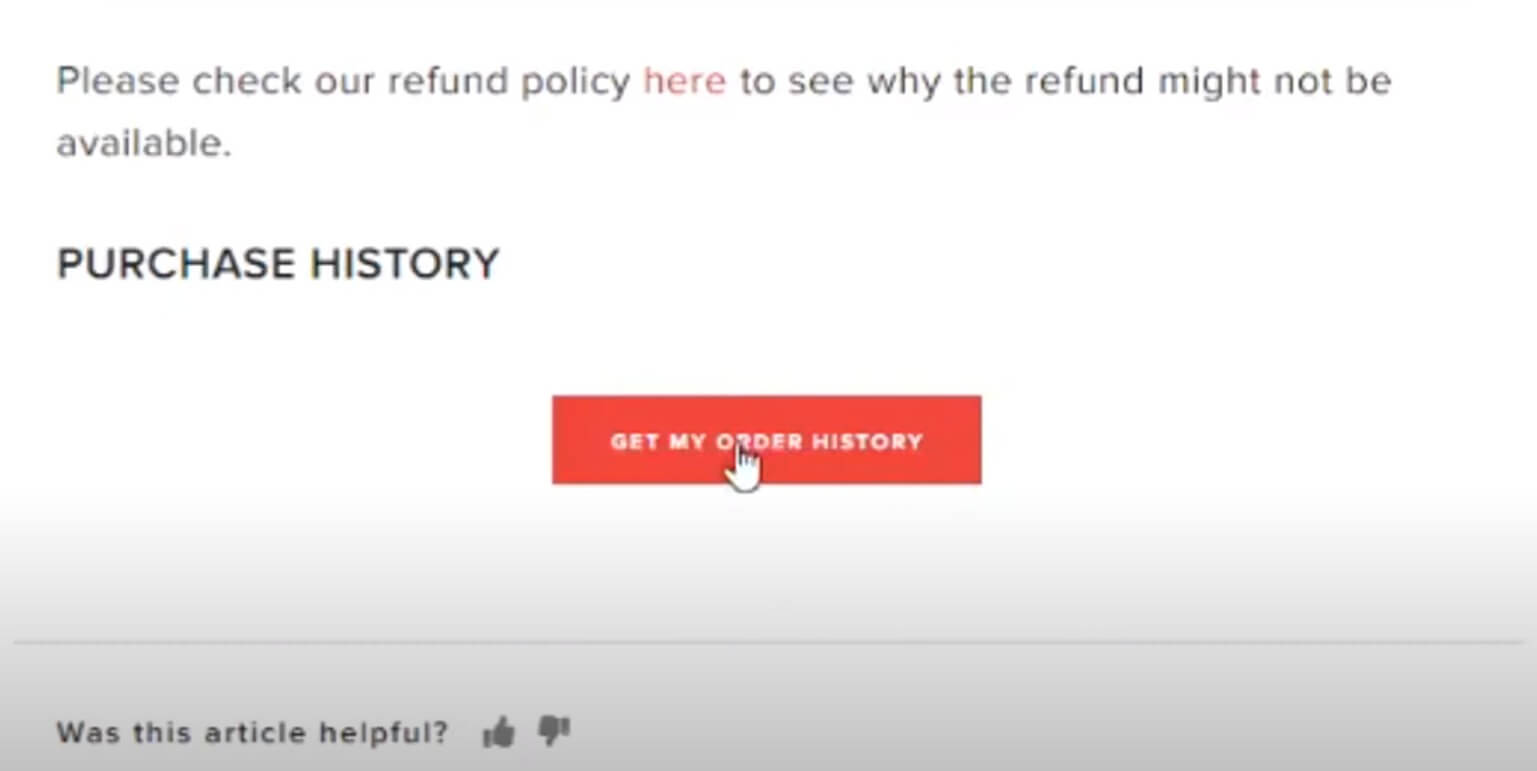 At the bottom of the page click "Get My Order History"
3. Select the item you want to refund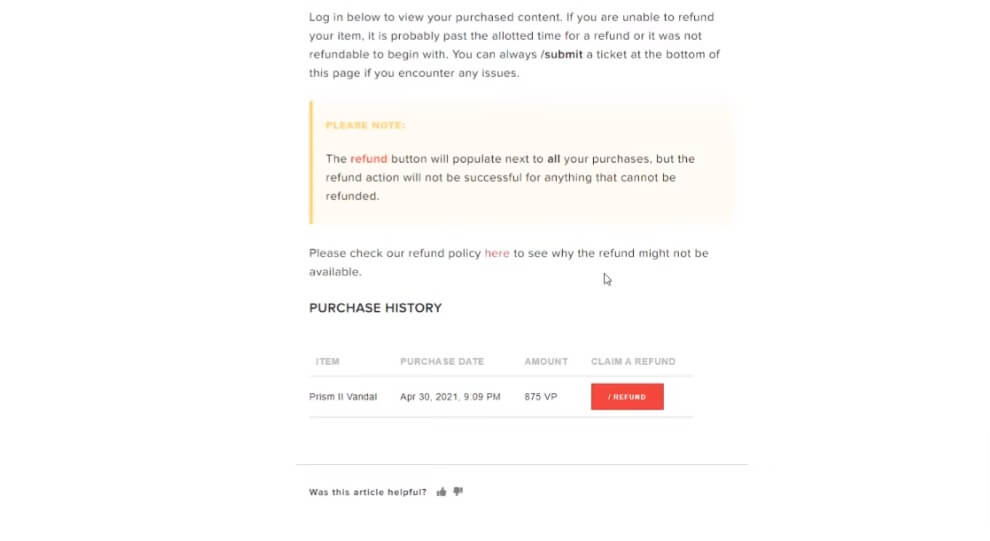 Here you will see your purchase history. Click the red button next to the weapon skins and click the refund button
Supply:
Tools:
Riot Games Support Website
Keep in mind this method is only to refund weapon skins. If you need to refund unused VP (Valorant Points) then you will need to open a support ticket here.
Conclusion
The team at riot games has made it easy for those players who want a refund and to be honest, I don't know of many games that make the ability to refund digital purchases this easy.
This is a good thing so please dont abuse the system and refund skins just to show up and take a screenshot. We need more gaming companies to take note of this practice and follow suit.
If you get stuck at any time trying to get cash refunds, then I urge you to submit a ticket to the support team and they will do their best to help you out.